UFC going all in for UFC 168 promotion
To say that tomorrow's UFC 168 is an important event for Zuffa this year would be quite the understatement.  In fact, the focus placed on UFC 168 has been so strong that some have argued that it has actually undermined the UFC events in between, which caused them to under perform. We will take a look at some of the numbers and the promotion being put together the week leading up to the event.
The UFC announced on July 13th, 2013 that the highly anticipated rematch between new Middleweight champion Chris Weidman and MMA legend Anderson Silva would take place on UFC 168, making Rousey vs Tate 2 and incredibly strong co-main event for the casual fans and mainstream. Since that announcement was made, about 5 months before the event was to take place, the UFC made it no secret it would be heavily promoting the event, which include an entire season of TUF dedicated to pitting both coaches on the PPV along with countless of media appearances and press conferences.  To summarize, the UFC has been promoting UFC 168 for five months straight hoping to cash in big at the end of the year.
In that span, the UFC has hosted four PPV events, from UFC 164 to UFC 167, and all have arguably underperformed.  Pettis vs Henderson, the highly anticipated rematch from WEC, which produced the Showtime Kick, drew less than 300,000 buys.  Jon Jones was the first noticeable casualty, drawing his lowest PPV buy rate since becoming champ.  Velasquez/JDS III drew 330,000 viewers while Velasquez/JDS II drew 590,000 the previous year.  GSP's 630,000 PPV buys are the lowest since UFC 87 in 2008 against Jon Fitch z9 not to mention that it was the UFC's anniversary event).   All events underperformed, but will the gamble to place most of the attention on UFC 168 for almost half a year pay off? They are certainly betting on it.
| | | |
| --- | --- | --- |
| UFC 168 | ???? | Weidman-Silva II |
| UFC167 | 630,000 | GSP-Hendricks |
| UFC 166 | 330,000 | Velasquez-JDS III |
| UFC 165 | 325,000 | Jones-Gus |
| UFC 164 | 270,000 | Henderson-Pettis |
The UFC has gone all in the week heading into UFC 168 with countless ad spots on FOX Sport properties and key big FOX spots during NFL programming.  The UFC even scored an appearance in Good Morning America this morning. To put it bluntly, a lot of money was spent on promoting UFC 168 and considering that UFC predicted the event would be as big as UFC 100 (1.6M buys), they really had no choice.  Then again, the UFC also bumped up the PPV price by $5 just for this event, hoping to reach UFC 100 levels of revenue even they most likely won't be able to match the buyrate.  This week, Dana White estimated the gate for UFC 168 to be around $6.3M already, which would place it among the top gates in the company's history.  It also appears that ESPN is all in for this event, which has historically meant good things for the UFC.
Now, is the event a shoe in to become a huge PPV success? Well, not necessarily.  End of the year between Christmas and New Years has always been a tough sell due to the festivities, new toys, NBA, and CFB Bowl games. UFC 141 hosted a huge main event between Brock Lesnar and Alistair Overeem, two of the biggest and physically gifted athletes in MMA.  Lesnar had been a shoe in for 1M PPV buys for years with the UFC, and adding an opponent like Overeem seemed like a PPV buyrate slam-dunk. Only, it didn't turn out that way.  The event ended up doing around 535,000 buys, which is nearly half what most expected, though there were a few key differences between that event and UFC 168.  One major factor was holding UFC 141 on December 31st (Friday night) where UFC 168 is being held on the more traditional Saturday night time slot. Lesnar had also lost his belt for that bout for his bout against Overeem after being dominated by Cain Velasquez along with many health concerns.  However you slice it, UFC 168 will be a hugely successful event, though the question of whether it can crack the 1M PPV buyrate which Lesnar and only a couple of other main events have been able to accomplish in the past 5 years is still up in the air.
Lets take a look at some of the promotion:
The MGM Grand in Las Vegas has been completely taken over ahead of Saturday's UFC 168. #DanaCenter pic.twitter.com/ZvcL753fKW

— SportsCenter (@SportsCenter) December 27, 2013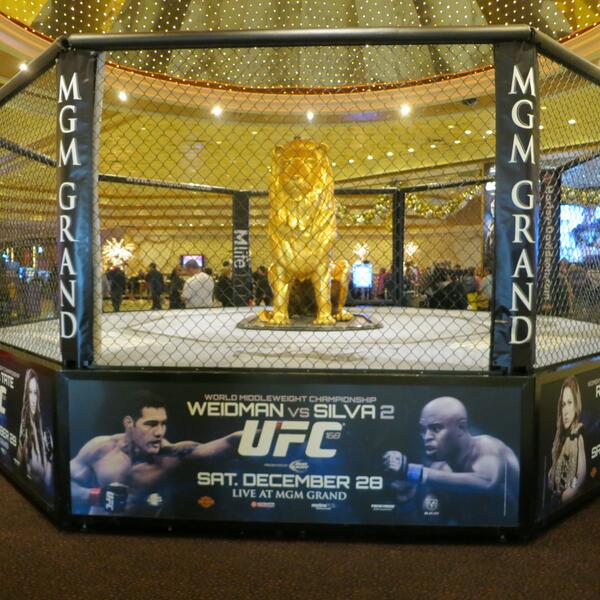 #UFC168 weighins almost here! pic.twitter.com/ZjSzL4UBgn

— MMAWeekly.com (@MMAWeeklycom) December 27, 2013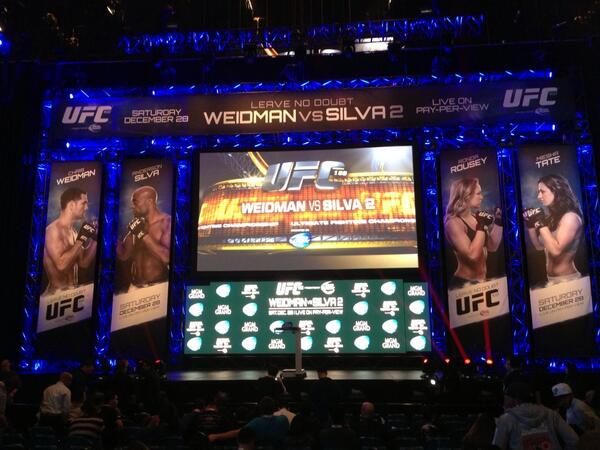 #UFC going all out promoting this one. pic.twitter.com/hxWaa1wrGz

— MMAWeekly.com (@MMAWeeklycom) December 27, 2013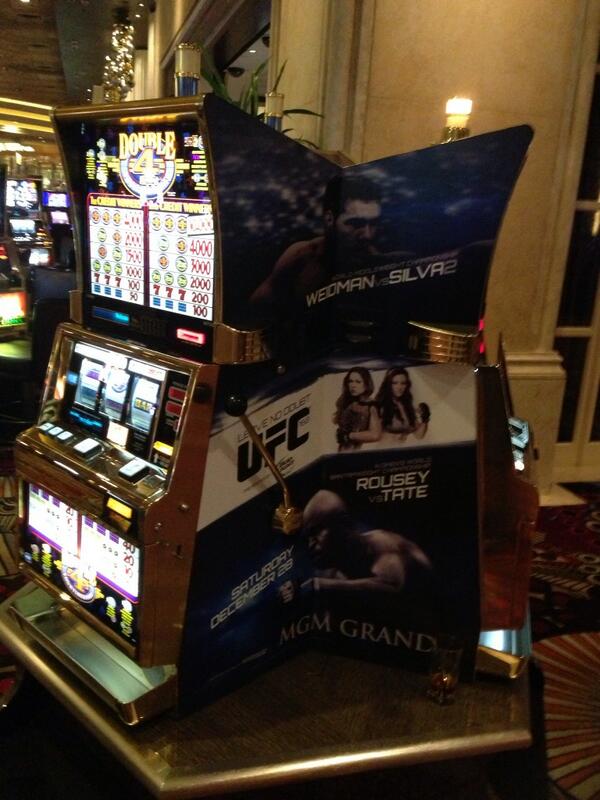 See what we mean? #UFC going all out … Or is this all in?!!! #UFC168 pic.twitter.com/5aO7A3Fkwc

— MMAWeekly.com (@MMAWeeklycom) December 27, 2013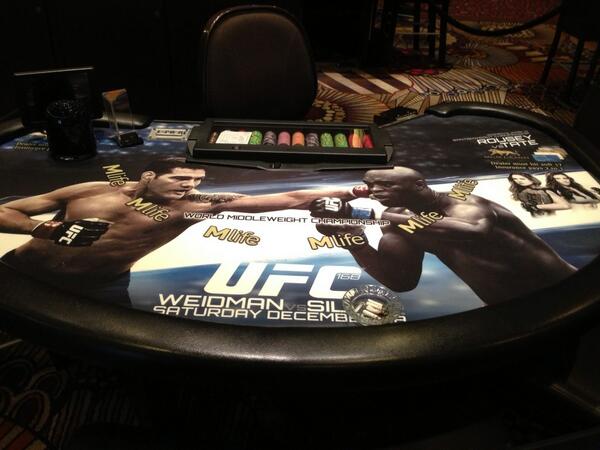 New Post – Dana White to take over SportsCenter's Twitter and Instagram on Saturday http://t.co/VvjgZNgJ5g

— Awful Announcing (@awfulannouncing) December 27, 2013
How much buzz does #UFC168 have? @GMA confirmed for interview with @RondaRousey tomorrow. Set to air on Saturday morning. Cc: @RyanGrabUFC

— Dave Sholler (@Sholler_UFC) December 27, 2013
I don't know about y'all but I am HYPED for this #UFC168 tomorrow night! Gonna be a great one! @danawhite puts on one hell of an event.
— Justin Timberlake (@jtimberlake) December 28, 2013