GOOD4U Managing Director Rick DeBanks commented on MMA Payout's take on the company's ban from the UFC and WEC. DeBanks added the following to the comments section of the post:
The UFC has initiated this most likely in response to a complaint from someone with Xenergy. GOOD4U is being seen as an "MMA" drink and capturing this market in Canada where Xenergy is fairly well represented. GOOD4U have done several events already with the UFC, and fight night logo placement is really only the icing on the cake in terms of overall marketing strategy.
There is no ill will towards the UFC, as they have been accessible throughout and overall are much easier to deal with than other Major Sporting Leagues. It is a business decision pure and simple and that's life.

The issues are more centred on the fact that:

1) The ban came at such a late stage
2) The drinks were viewed as Energy Drinks when they clearly are not

Remember also that fighters sign contracts based on a current  set of circumstances and if you alter those circumstances,  you indirectly alter the value of the contract.

At the end of the day it's a free market the UFC is free to ban whoever they don't want at their show and GOOD4U is free to go elsewhere or find creative ways to deal with restrictions.
In an exchange of emails with DeBanks he stated that GOOD4U would not pursue sponsorship opportunities with Strikeforce due to its relationship with Rockstar. However, Bellator, MFC, Dream or Sengoku were all possibilities as well as UCMMA in England and other smaller organizations.
DeBanks also wrote:
The UFC's decision doesn't impact our overall marketing strategy which was to integrate GOOD4U Drinks into the fighters training regime and lifestyle, this has been successful for us and we plan to continue and may even go more grass roots in our branding. By that I mean sponsoring or partnering with MMA type gyms, Dojos etc…
In an email provided to MMA Payout by Spike TV, ratings for episode No. 6 of The Ultimate Fighter earned an average of 1.7 million viewers and a 1.3 household rating. A slight slide from last week's season high.
TUF aired at 10pm on Wednesday night.  It scored a 1.71 in M18-49 and a 1.94 in M18-34.
The quarter hours for TUF are as follows:  1.14/1.19/1.33/1.42.
Payout Perspective:
Despite a dip from last week's episode, viewers were treated to a pair of TUF fights with exciting finishes. Cody McKenzie's swift disposal of Marc Stevens was impressive. The look on Josh Koscheck's face was priceless. Does anyone think it was planned that Jonathan Brookins (former Bellator fighter) fought on TUF the night before the big Bellator card? Conspiracy theory I know, but it still seems suspicious.
Was the slight decrease in ratings a sign of Brocktober fatigue or a result of MLB playoff baseball?
Better known as The Wrestling Observer, F4WOnline.com is the go to source for MMA insiders who don't mind a side of professional wrestling. It's behind the scenes coverage of the sport and on site reporting is second to none. The premium Wrestling Observer Newsletter is the de facto industry trade publication and sets the standard when it comes to pay-per-view numbers. Its reach and influence despite the fact that the majority of its content is behind a pay wall is a testament to its quality.
Ranked # 6
Reach # 8
Content # 6
Features # 2
Influence # 13
Quality # 5
Browse previously ranked sites in the Media Rankings category.
THQ and Zuffa have officially announced an extension of their exclusive video game licensing deal to continue publishing their UFC branded franchises through 2018.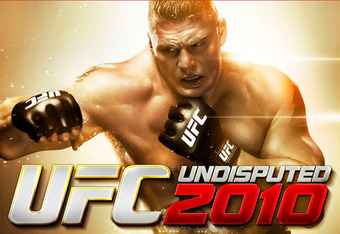 THQ Inc. today announced that it has extended its exclusive, worldwide agreement with Zuffa, LLC to publish videogames based on the Ultimate Fighting Championship(R) (UFC(R)) brand through 2018.
"We're very excited to extend our relationship with Zuffa and the Ultimate Fighting Championship," said Danny Bilson, Executive Vice President, Core Games, THQ. "Working closely together with Dana White and the incredible team at UFC, we plan to continue to deliver outstanding interactive UFC experiences to gamers around the world in all new ways, including social, mobile and brand extensions."
"THQ has delivered the quality demanded by UFC and its fans with the first two Undisputed(TM) games and we are about to broaden the UFC brand experience among gaming fans through social and mobile apps," said Dana White, UFC President. "We are impressed by the passion that THQ brings to making great games and we look forward to working together to create even greater gaming experiences for our fans in the future."
Under the terms of the agreement, THQ has obtained the rights to create videogames for all current and next-generation consoles, PC and handheld platforms, in addition to certain social media and wireless rights, including iPhone and iPad. Rights also include online, downloadable and multi-player capabilities in connection with the various gaming systems.

Payout Perspective:
The deal was struck just a few months after UFC Undisputed 2010 fell short of expectations, shipping 2.7 million units for gaming consoles, trailing UFC Undisputed 2009 who shipped 3.5 million units the year before.  Due to the drop in sales, THQ decided to delay the next UFC Undisputed release and move the development for the title into a 15-to-21 month cycle instead of the originally planned yearly release. Since the next Undisputed release is not scheduled until the first quarter of 2012, THQ and Zuffa are planning to release UFC Trainer (a motion-sensored workout game) in January of 2011 for the Wii, PlayStation Move, and the Xbox 360's Kinect.
The move to extend the licensing agreement with THQ was a bit of a surprise for some industry insiders, who expected Zuffa to shop around for the highest bidder.  Instead, UFC and THQ agreed to an extension which would guarantee at least 4-5 more Undisputed titles and plenty of other side projects such as the UFC Trainer game within that period.   The deal also guarantees exclusivity for the UFC brand to be developed into video games for the PSP, iPhone, and iPad mobile devices, which will be a vital market to target within the next few years.  Last month, THQ released Undisputed 2010 on the Sony PSP mobile platform.
Bill King of the Sports Business Journal writes that the deal between the UFC and Boost Mobile is official. Boost will begin its first activation piece this weekend at UFC 121 with a text to win game, while also doing some in-arena activation around one of its new phone offerings.
Boost launches its first major UFC activation on Saturday with a national online and text-to-win sweepstakes promotion titled "Your Town, Our Fighter." Boost also will serve as presenting sponsor of Saturday night's UFC 121 PPV from Anaheim featuring BrockLesnar-Cain Velasquez. That event brings the unveiling of Boost's in-arena activation, a "Seek and Destroy" zone in which consumers can sample Boost's first touch-screen slider handset, the Samsung Seek, and also win seat upgrades by posting the highest score on a UFC video game.
Payout Perspective:
This has been in the works for the last couple months. MMAPayout.com first reported on Boost's relationship with Rampage Jackson at UFC 114, which was the first time they'd been allowed in the Octagon. Then at UFC 119 in September the mobile phone provider had cage mat and fence signage to which we proposed the following:
The one thing I really wanted to mention was the addition of Boost Mobile as a sponsor on the mat and cage padding. Boost has been slowly increasing it's investment in MMA over the last year; most notably with it's sponsorship of Rampage Jackson back at UFC 114. It appears the brand will be the presenting sponsor for UFC 120, so look for plenty of signage that evening. I'd also expect, seeing as it's a Spike TV broadcast, that Boost will purchase some additional ad inventory to further activate it's new found relationship with the UFC.

 

I'll be watching this with a keen eye over the next couple of months to see where this relationship goes. The UFC is a potentially incredible platform for a mobile phone operator to advance on that coveted 18-34 demographic; especially one such as Boost that doesn't require users to sign contracts.
We've seen other UFC sponsors reticent to activate and I've never fully understood this approach. The UFC platform is full of little nuances and marketable lifestyle traits that a sponsor could easily use to draw a better association between its brand and the UFC, which would help the brand endear itself to the fans. Boost is set to change all of that. I wouldn't be surprised to see Boost, in addition to signage and several contests, sign a few more fighters in the coming months.
——
Chalk one more acquisition up for UFC VP of Sponsorship Mike Pine. He'll be moving to IRONMAN Triathlon in November and the UFC is currently searching for someone to fill his shoes.
Formerly a UK only magazine, Fighters Only has dramatically expanded its reach in recent years and made a splash with the introduction of its magazine in North America. It upped its profile further last year with the introduction of its annual awards gala, MMA's only red carpet and black tie event. It does a nice job of blending content from the magazine with exclusive web content to create a compelling website.
Ranked # 7
Reach # 10
Content # 10
Features # 7
Influence # 5
Quality # 11
Browse previously ranked sites in the Media Rankings category.
MMA Fighting reports that sport drink sponsor, GOOD4U, will no longer be an approved sponsor of the UFC. According to the beverage maker, it was informed Tuesday morning by Lorenzo Fertitta and the UFC that the brand will no longer be welcome in the UFC and WEC, beginning with this Saturday's UFC 121 in Anaheim.
On its web site, GOOD4U posted a message addressing the UFC ban:
GOOD4U Drinks is seen by Zuffa as a direct competitor to Xenergy (which is owned by Zuffa) and AMP Energy which advertises heavily on both WEC events and Spike TV's The Ultimate Fighter program and although GOOD4U are Sport Drinks NOT ENERGY DRINKS, they have been taking share from these brands.
The athletes affected by this decision at UFC 121 are Chris Camozzi, Patrick Cote, Matt Hamill and Jon Madsen. As this decision has just come down today it will be virtually impossible for them to find alternate sponsorship.

It has already been said many times that as much as any other sport, MMA fighters depend on sponsorship this isn't a cliché tis (sic) is a fact.

For those of us that love the sport and want to see it grow, we should remember that there are companies out there that have the money and want to pay fighters. Shutting us out will only make it that much harder to support and develop new talent coming into the UFC.
Payout Perspective:
The timing of this decision could not be worse for the UFC Fighters affected by the ban. As we know from the Matt Mitrione/Malki Kawa sponsorship issue, mid-card fighters will have a hard time to find last minute sponsors as the agents for the fighters will be scrambling. Hamill was the only GOOD4U-sponsored fighter on the PPV card. Cote is fighting on the free Spike TV show and Camozzi and Madsen are not scheduled to be on television. Hamill may be the only one that may not have a problem since he is in a featured bout.
GOOD4U's public relations response to its ban from the UFC was quick and easy to understand. The product was seen as a competitor to UFC interests (Xenergy and Amp Energy) and was taking market share away from its products. As a result, it banned GOOD4U. The message by GOOD4U clarified its position that it was not a competitor of Xenergy or Amp Energy and at the same time indicated that its business is growing. It tells people that it is a young, growing business willing to spend sponsorship dollars – a rarity nowadays.
It would be interesting to see the type of contract/agreement sponsors must go through to be a UFC approved sponsor. It seems as though the agreement allows the UFC to terminate its agreement at will. Will there be more vetting of sponsors? If so, this could mean future problems for fighters seeking extra money through sponsors.
The first major MMA magazine in North America, FIGHT! has established itself as a must read in the MMA world thanks to its distinguished contributors and compelling feature stories. On the web it makes its mark with exclusive video features and a regularly updated blog.
Ranked # 8
Reach # 22
Content # 12
Features # 12
Influence # 3
Quality # 12
Browse previously ranked sites in the Media Rankings category.
MMA Payout has learned via email from SpikeTV that UFC 120: Bisping vs. Akiyama delivered a 1.3 hh rating – a 1.8 in M18-49, a 2.24 in M18-34, and had an average audience of 1.9 million viewers. The card, tape-delayed on SpikeTV earned about 2.5 million viewers at its peak
The quarter hours for the 3 hour card are as follows:
Qtr hours/ viewers
8-11pm
1514,000      
1543,000      
1801,000      
1909,000      
1759,000      
1910,000      
1745,000      
1756,000      
2335,000      
2018,000      
2471,000      
2463,000      
Payout Perspective:
As reported by multiple outlets including MMA Junkie, the numbers indicate that there were 1 million less viewers for a similar event — UFC 105 in November 2009. It was the last time the UFC held an event that was overseas (in Manchester) and tape-delayed. UFC 105 saw Randy Couture defeat Brandon Vera in the main event. The numbers for UFC 105 drew 2.9 million viewers and saw a peak viewership of 3.9 million. It may not be fair to compare the two cards since 105 was headlined by Couture/Vera (and had Hardy and Bisping fighting on the undercard) and 120 had Bisping/Akiyama (and Hardy was KO'd)
Much has been debated regarding ESPN's reporting of the results during college football and prior to Spike TV's telecast. Whether or not it hurt ratings would be hard to determine. Many MMA web sites attempted to keep results concealed to those that visited its main page but offered "spoilers" if you inquired within the site. Twitter seemed to be abiding by this code as well until Carlos Condit knocked out Dan Hardy and that's when I noticed more tweeting of that particular result. I doubt think this result would have stopped someone from watching the card.
Welcome to another edition of Payout Perspective! This week we'll be taking a look at UFC 120: Bisping vs. Akiyama that was held on Saturday, October 16th from the O2 Arena in London, England. In addition to Bisping vs. Akiyama, the event featured a host of British and European fighters including Dan Hardy, John Hathaway, Paul Sass, Cheick Kongo, Alexander Gustafsson, and Cyrille Diabate.
Bisping decisions Akiyama, remains on track for title shot
Michael Bisping gave the home crowd something to cheer about in the main event with a sound decision victory over Yoshihiro Akiyama in a fight that was awarded Fight of the Night by Dana White. Bisping was able to leverage his speed and reach to routinely beat Akiyama to the punch, but he still seems to lack the punching power necessary to really hurt an opponent.
The win was important for both Bisping and development of the UK market. Bisping is now one step closer to a shot at the title. The fact that he won on home turf also helps to reinforce the tremendous support the UK market threw behind this event and its fighters. Moreover, the promise of a potential title fight between Bisping and Silva in 2011 could really help push MMA in the market, because it would play on the tremendous amount of nationalism within the country and give the media a legitimate reason to feature the sport on a consistent basis for a couple weeks (especially if the fight is brought to London or Manchester).
Condit KOs Hardy, stuns crowd
Carlos Condit's knockout of Dan Hardy will likely prove to be a candidate for KO of the Year. It was the perfect combination of speed, power, and timing with the added element of surprise — no one expected Hardy to be laid out in such a manner.
Now things have just gotten a lot more interesting in the UFC's welterweight division. Condit has racked up three straight wins in the UFC and managed to knockout the opponent that the champion couldn't even finish. He's proved his worth. Here's the situation as I see it:
GSP and Koscheck will fight in December and the winner will likely be available by March or April.
The winner of Shields and Kampmann will likely get the next title shot (especially if it's Shields) because it puts a fresh face in the main event and Jon Fitch hasn't earned himself any new fans with his style.
However, I do expect Fitch to remain in the title hunt – especially if GSP defeats Koscheck — and it would seem to make a lot of sense for him to fight Condit to produce the next challenger in the division come Summer or Fall 2011.
UFC 120 sets UK attendance records
UFC 120 has reportedly set the UFC's attendance record for Europe with 17,133 fans in attendance for a total gate of $2.56 million. It's certainly an improvement over the last time the UFC was in London at the O2: UFC 95 did just over 13,000 fans for an estimated gate of $1 million. However, as Junkie points out the UFC earned more at the gate on fewer fans in attendance at UFC 75 with the Rampage vs. Henderson title fight.
UK title fights necessary, but may come at high opportunity cost
UFC 120 was an eye-opener due to its strong sales and the great amount of support the card was able to generate. The use of local talent proved to be an effective strategy for the UFC and evidence that it's expansion into the market is on course. I'll admit that when the fight card was first announced, I was very skeptical that it would sell, but it did.
Now, my question is for how much longer is this strategy viable?
I remain adamant that my larger point still stands: if the UFC is to continue its growth in the UK it must deliver better fight cards with bigger stars to the market. Unless Bisping or Hardy or another UK fighter become a bona fide star over the next few years, neither is going to adequately quench the appetite of UK fans for top-quality MMA.
The challenge with delivering bigger stars and fight cards to the UK is, of course, incurring significant opportunity costs. The UFC is rightfully reluctant to pull a great card away from the North American market, because it loses that short-term revenue guarantee associated with the PPV buys. To overcome the opportunity cost the UFC is going to have to do two things:
1.) Maintain its focus on generating medium and long-term growth with the realization that this growth will easily eclipse the immediate sacrifice of domestic PPV revenues. The $5-10 million they give up now could contribute towards annually earning $50-$100 million in the UK market five years from now.
2.) Push the limits of social media and other cost-effective promotional tools that might allow the UFC to increase promotion of its foreign events without significantly increasing costs. It seems to me the UFC could really leverage this "spoilers" controversy to form an interesting internet marketing campaign that might increase awareness in foreign events and motivate fans to actively ignore media outlets on fight day in favor of purchasing the event that evening. The model they used for UFC 112 seemed to work, but I also have to think it was somewhat expensive with all of the extra television and print ad inventory they purchased to go along with the time buys on many RSN's throughout the US.
Then again, perhaps the UFC doesn't need to make these events PPV at all. Its television ratings have been declining over the last nine months largely because the quality of their UFN and TUF cards has been lacking. If the UFC is going to hold a title fight in the UK, it might consider giving the fight away for free on Spike TV as an exposure play and gesture of goodwill to the fans. This is something that might be easier to do if, say in 18 months, the promotion is on ESPN. Nonetheless it's an option worth considering.