MMA Junkie reports on Ronda Rousey's opinion on the testing of marijuana on fighters.  Although Rousey believes that marijuana is an "invasion of privacy" it is actually not.
The women's bantamweight champ told MMA Junkie, "It is beyond their [state athletic commissions/sanctioning bodies] rights [to test for marijuana]," Rousey said. "It's actually an invasion of privacy."
Rousey, who will main event UFC 170 this Saturday was asked the question about marijuana in the sport after UFC women's fighter Jessica Eye tested positive for marijuana.  Eye's positive test and subsequent mangling of the situation is a public relations case study.  Rousey believes that marijuana is not a performance enhancer and should not be tested.  Regardless of Rousey's opinion, she is required by commissions in the states and sanctioning bodies where the UFC holds events to submit to a drug test.
A sample portion of a UFC contract under the "Fighter's Conduct" section:
8.5  Fighter shall not use any controlled or banned substance, including but not limited to marijuana, cocaine, metamphetamine, steroids, human growth hormone or any similar drugs or blood doping techniques (each a "Controlled Substances, and Fighter agrees to submit to any pre-Bout or post-Bout drug test as requested by an Athletic Commission.  Fighter shall be deemed to be in breach of this Section if Fighter tests positive for any Controlled Substance in any pre-Bout or post-Bout drug test.
We do not know for sure that this paragraph is in Rousey's contract, but one would think it's unlikely that this would be negotiated out of a contract.  Even if this language is not in her actual contract, we may assume that something like this would be included.
Payout Perspective:
The fighters are subject to the rules of the athletic commission and/or sanctioning bodies and even though social perceptions on marijuana have changed and two states have legalized marijuana it is still considered a banned substance that will be tested.  In fact, the two UFC events in Washington state where marijuana is legal, the Washington State Department of Licensing (the state agency overseeing boxing/MMA and wrestling) tested UFC fighters for marijuana.
As for the "invasion of privacy" comment, this is not correct.  The fighters agree to be tested by the various sanctioning bodies and most, if not all, test for marijuana.  If this is to change, someone would have to lobby for the stop to marijuana testing.  Perhaps Rousey is speaking out in hopes of gaining some traction with other fighters to lobby against this testing.  Until then, marijuana will still be tested and will be subject to penalty.
MMA Junkie reports the attendance and bonuses for Saturday's UFC Fight Night 36 which took place at Arena Jaragua in Jaragua do Sul, Santa Catarina, Brazil.
The fighters grabbing the newly restructured bonuses received $50,000 each:
Fight of the Night:  Lyoto Machida-Gegard Mousasi
Performances of the Night: Erick Silva and Charles Oliveira.
Junkie also reported the announced attendance at 7,511 which is slightly less than its last event held May 2013. UFC on FX8 featuring Vitor Belfort against Luke Rockhold received an attendance of 7,642.
Payout Perspective:
Although the new structure of bonuses did not have to include a KO or submission it included the two fights on the card which did not go to decision.  Silva was the lone stoppage via punches and Oliveira was the only submission of the night.  There were mixed feelings on the FOTN as some did not believe it rose to being the best fight of the night.  In all, it was a long night with a lot of fights that were not memorable.
The UFC announced this week that it intends to have its fighters wear uniforms in the Octagon.  Although nothing is official, multiple sources are reporting that the UFC has spoken with a major athletic apparel company regarding fitting its fighters for uniform to wear in the Octagon.
The deal will dress the fighters including hats, walkout shirts and fight shorts.  The fighters will be allowed panels on their person where they may obtain other sponsors.
The uniforms appear to be the UFC response to addressing the disparity in fighter sponsorships – something Dana White indicated he wanted to fix.  Notably, Cole Miller had expressed discontent with sponsors.  Chris Carmozzi called for an end to lowball offers from potential sponsors on his blog.  Mac Danzig had gone so far as to decline sponsors for his fight on network television.
We will see if the uniforms will be similar to what we see on TUF  (with less emphasis on the athletic company logo) or will we see some other design.
(H/T:  Bloody Elbow via Bleacher Report)
Payout Perspective:
This will be an interesting story to follow as this deal will be lucrative from the UFC's standpoint as it essentially brokers a sponsorship deal for it while seemingly solve sponsorship issues with some of the lower tier fighters.  It's not clear how the deal does away with lowball offers from sponsors although the details have yet to be released.
A good question to ask is if there is limited space for sponsors on the new UFC uniform, how many companies would be willing to invest.  The new uniform may also minimize the need for fighter representation.  Rather than find deals for its fighters, managers and agents will have less of a role in this area and must show value to their client in other ways.
MMA Payout has learned from Nielsen sources that the fifth episode of TUF Nations on FS1 received an average viewership of just 187,000 viewers.
TUF Nations: Australia vs. Canada
Episode 1:  371,000 viewers
Episode 2:  253,000 viewers
Episode 3:  107,000 viewers
Episode 4:  384,000 viewers
Episode 5: 187,000 viewers
Payout Perspective:
This week's episode represents almost a 50% drop in average viewership.  This is interesting considering that the controversy surrounding Tyler Manawaroa did not move the dial.  In fact, less people were interested.  This may be due in part to the Winter Olympics which earned an average viewership of 20.8 million on Wednesday night albeit the Olympic ratings were the lowest of the Sochi Games.
We wrote yesterday about the rocky contract negotiations between Gilbert Melendez (22-3, 1-1 UFC) and the UFC.  Today, Bellator shocked the MMA landscape by announcing a multi-fight deal with one of the best lightweights in the world in Melendez, though the UFC currently maintains matching rights.
Gilbert Melendez sits atop the UFC's lightweight division. With victories over Josh Thomson, Diego Sanchez, Shinya Aoki and Jorge Masvidal, "El Nino" is ready for a new crop of challengers as the Santa Ana native has agreed to a multi-fight, multi-year deal structure with Bellator that can pit Melendez against some of MMA's best, including Eddie Alvarez, Michael Chandler, Will Brooks, Dave Jansen and a host of top lightweights from around the world.
.
"The moment Gil was legally able to explore the free agent market, Gil's management team reached out to me and we began figuring out how to bring Gil to Bellator," said Bellator Chairman & CEO Bjorn Rebney. "It's no secret that I've been a big "El Nino" fan for many years. Gil was one of the first fighters I tried to sign when I launched Bellator back in 2008, and he's grown and developed into one of the best and most exciting lightweights on earth.  Gil has a vision for what he wants to accomplish both inside and outside the cage and we can help make his vision a reality.  We are in the business of developing and showcasing the greatest fighters on earth. That's what we intend to do here with Gil and it's what we'll continue to do in the future."
.
The UFC currently holds matching rights on Melendez.
Payout Perspective:
Bellator's announcement today was pretty shocking and caught many in the MMA landscape off-guard.  Nevertheless, it's a key strategic move for Melendez, who is trying to maximize his market value.  This is a classic example of pinning bidder A versus bidder B, and illustrates the importance of having more than just one key player in the MMA landscape for fighters.  Whether Melendez ends up in Bellator or UFC matches Bellator's pay and signs back with the promotion, it will be a win/win for Melendez in the short run.
In the long run, for a fighter who is as exciting as Melendez, you risk making a choice that may seem near-sighted, and could miss out on potential fight of the night or performance bonuses in addition to base pay, which could end up surpassing Bellator's proposed pay. Although the exact numbers of the deal are not available at this time, MMAPayout will report them as they become available.
Winning a title and getting a push from the UFC is invaluable for a fighter, but Bellator will do their best to match the same benefits as they tried to do with with Eddie Alvarez, such as offering exposure on Spike TV, featured in a potential PPV down the line against either Eddie Alvarez or Mike Chandler, two of the best lightweights in the world, and certainly other Viacom opportunities.
The ball is now in the UFC's court, and it's up to them to determine if they want to retain Melendez and match what Bellator is offering or let him walk away to a competitor.
MMA Junkie reports that the next TUF series will feature fighters from Latin America.  The news was announced on Thursday afternoon.
The UFC will be accepting applications and eligible candidates must speak Spanish, have a minimum of 3 pro MMA fights and have a winning record.  In order to appeal to the Latin American audience the UFC will require they be citizens of one of the following countries: Argentina, Belize, Bolivia, Chile, Colombia, Costa Rica, Dominican Republic, Ecuador, El Salvador, Guatemala, Haiti, Honduras, Mexico, Nicaragua, Panama, Paraguay, Peru, Uruguay or Venezuela.
No other details have been released regarding weight divisions and coaches.  The show will begin taping later this year.
Payout Perspective:
The announcement is part of the UFC's standard strategy when setting a footprint in a new market.  Although the TUF franchise has become tired here in America, the show is a good sample for prospective MMA fans.  It will be interesting to see if it will appear on the prospective subscription based Televisa channel in Latin America.   The Latin American market is important for the UFC as it hopes to continue to develop a global following.  It had hoped for an event in Mexico which would feature Cain Velasquez although this has been put aside for now due to Cain's injury.
Dana White has expressed his discontent with the current negotiations with UFC Lightweight Gilbert Melendez and has all but told the former Strikeforce Champion to look elsewhere for work.
On Wednesday's "UFC Tonight" on FS1, White spoke out about the contract negotiations with Melendez's representation as the parties are at an impasse with a new deal for Melendez.
Although it was not officially reported how much he made at UFC 166, he did receive a $60K FOTN bonus for his bout with Diego Sanchez.  He did make $175K at UFC on Fox 7 in a loss to Benson Henderson.  One assumes that Melendez would like to improve on his $175K show salary.
The MMA Report brings up a good question: whether a fighter should look for top dollar or the best competition when it comes to deciding where to fight.  There is the example of Ben Askren who was let go by Bellator in order to presumably sign with the UFC.  However, he chose to sign with Singapore-based OneFC where he will make $50K/$50K to start.  Arguably, Askren is one of the top welterweights in the world and has a personality that would make him marketable.  The knock on Askren is that his fight style is not appealing to the casual viewer.  One would think that he would choose the UFC over an overseas company.
When I think of the Ben Askren choice it reminds me of NBA player Josh Childress.  A Stanford alum, he left the NBA after 4 productive years and with an offer to stay in the NBA but decided to make more money in Greece.  But after 2 years, Childress ended back in the NBA and cited issues with getting paid and less amenities overseas as compared to the NBA as reasons he chose to return.  Thus, this is an example of why taking the most money may not be the best for a career.  Of course, MMA differs from basketball if you were to just compare the physical rigors and average shorter career span of a fighter.
One of the underlying issues that may be hampering the negotiations is that Melendez is represented by the same agent as Georges St. Pierre.  As we know, GSP's departure from the UFC was awkward and may have been less than amicable.  GSP spoke out about drug testing in the UFC which unsurprisingly drew the ire of White.  Is the difficulty in brokering a new contract for Melendez in part due to White's anger at GSP via his agent?
Then there's the use of the media in the negotiations.  First, there was White's public comments on FS1.  Then, in a bit of a surprise, the UFC on Fox twitter account tweeted an article it posted on its Fox Sports web site in which it mocked Melendez for the stalled negotiations.  The article actually admits it has scant information on negotiations but would speculate on the reasons why Melendez has not come to an agreement.
Payout Perspective:
Melendez has a short timeframe to earn as much as he can in a sport where the premise is to inflict maximum pain on your opponent.  This takes a toll on the fighter physically and mentally.  However, the sacrifice is worth it assuming he is compensated enough to take care for himself and his family.  In MMA, it's unlikely that a contract will make someone set for life but a fighter has the potential to do much better than he would if he or she just had a 9-5 job.  We do not know how much Melendez is asking for but one might assume he wants to make sure he is fairly compensated (in his mind) for his sacrifices.
Like many sports executives, White is negotiating through the press.  Calling out Melendez's agents is a part of negotiations.  A new wrinkle is the use of Fox Sports to seemingly call out Melendez for not agreeing to a contract.  In other sports, the media produces pieces calling out one side or another in negotiations but the Fox Sports piece is a blatant run at Melendez.  Is it fair?  Should Melendez and his representatives respond with their side of the story?  We shall see.
Marshall Zelaznik of the UFC today announced that Fight Pass is now available for Apple iOS devices, though Apple TV is not yet supported.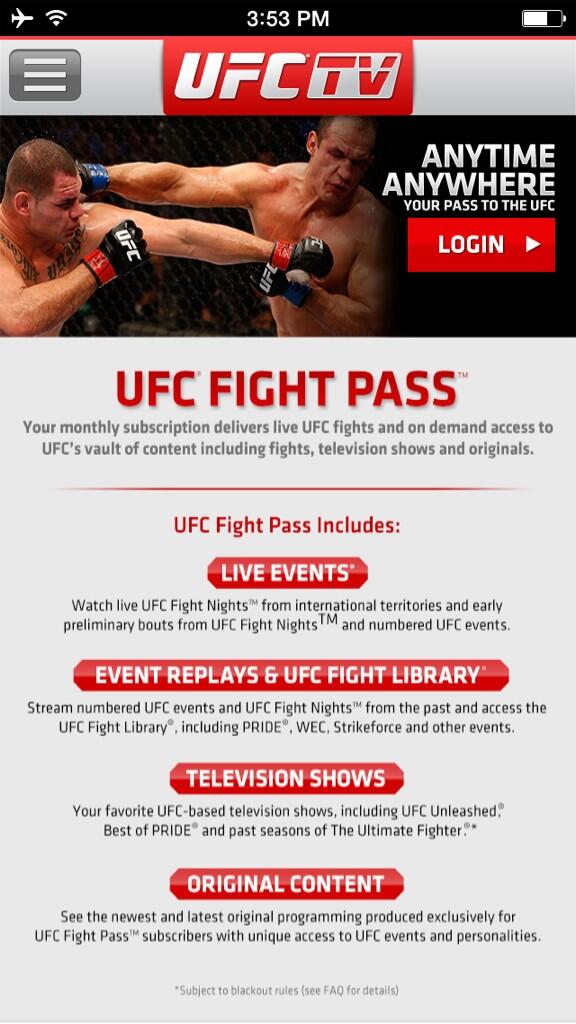 Payout Perspective:
Making Fight Pass available on Apple devices is a big step for the UFC, though the date for when the app will be available for Apple TV is still to be determined.  Though it is a big step for the UFC to get this up before the free trial ends and contains some big improvements, users are still reporting pretty issues, such as the lack of a search functionality.  Availability for other devices such as PS4, Xbox One, and Roku are still up in the air.
At this time, users can register on a desktop or laptop then access your content through Apple devices.
In anticipation for EA Sport's UFC video game release in Spring, EA Sports will be releasing video game  footage and fighter screenshots to build up the launch.  This weekend, new footage was released to illustrate the next-gen likeness that the UFC video game can take advantage off from the PS4 and Xbox One.
Payout Persective:
EA Sports UFC video game looks to be coming along quite nicely.  With only a few months away from the expected launch date, you can expect more videos and footage to be released with promotion kicking into another gear real soon. So far, the images and short clips have looked great, but the in-game play has been kept a secret so far.  There are a few hands-on reviews starting to leak, like this one from gamesradar.  We will keep an eye out for the release date, which the UFC will heavily promote with a UFC event.  An EA Sports heavy promo strategy on the April UFC on FOX 11 event.
UFC Featherweight Conor McGregor is one of the stars in a recently released Heineken commercial. Currently rehabbing from injury, McGregor is taking advantage of his time off.
As you can see from the commercial, McGregor's special talent is that he can make origami cranes…or that he has the patience to make them.
The commercial is part of a "hidden talent" search in Ireland sponsored by the beer maker.
Via the Irish Examiner:
From now until March 2 Heineken is inviting anyone to submit their legendary talents (with a difference) via Heineken.ie/IrishLegend. In exchange, Heineken will reward one lucky legend with a once in a lifetime trip to stay on their very own private paradise island in Belize.
Payout Perspective:

The commercial is a great opportunity for McGregor who has received a lot of publicity in the UFC despite just having 2 fights in the Octagon before getting hurt. Although it's unlikely that McGregor could ever be sponsored in the Octagon by Heineken (since Bud Light is the official UFC sponsor), these out of the Octagon commercial opportunities can help with his mainstream pitchman appeal.