UFC 170 was supposed to feature Ronda Rousey versus Sara McMann, Rashad Evans versus Daniel Cormier, and Gilbert Melendez versus Khabib Nurmagomedov. Three really great fights many fans were looking forward to since the announcement was made during the UFC 168 post-fight press conference. A lot has changed since then.
About a month after the announcement, we started to get some displeasure between the UFC and Melendez about signing a new contract.  The UFC quickly mentioned that Melendez vs Nurmagomedov was never official despite being on the UFC 170 poster.  Considering that Melendez eventually signed with Bellator and is now waiting to see if the UFC will match their offer, we now know what happened with that bout.  Just a few weeks later, Rashad Evans abruptly announced that he was being pulled out of his fight against Cormier due to a leg injury with only two weeks left until the event. That announcement created a mad scramble for the UFC to find an opponent for Cormier, which led to booking unknown Pat Cummins in the co-main event against Cormier.  That left us with only one fight in tact since the original announcement, Rousey vs McMann.
It's rare to see someone with only two UFC fights being put in the position that Ronda Rousey is in for UFC 170, but considering the huge success of UFC 168, it left the UFC with no other options.  Rousey was always going to be the mainstream attraction for UFC 170.  But after Melendez and Evans pulled out of the card, there is no denying that the success of the event will be solely on Rousey's shoulders, which is even more daunting considering the short turn-round and the lack of time to promote the event as UFC 168 and UFC 157 had. UFC 168 had 500K+ Google Hot Searches though it ended up with 2M+ due to Anderson Silva's gruesome leg break. Rousey's UFC debut for UFC 157 ended up with 200K+ searches, which is a better comparable than UFC 168. As the UFC 170 event begins, Ronda Rousey already has 100K+ searches without any other UFC search in near sight. UFC 169 only had 100K+ total searches for the event, which is a remarkable comparison.
With that being said, UFC 157 did an estimated 450,000 PPV buys with a ton of casual media attention as the UFC heavily promoted the debut of women in the promotion.  UFC 170 won't have that benefit, but it does have the momentum UFC 168 created with MMA and casual fans.  If you look at the numbers and the lack of stars on the UFC 170 card, anything above 400,000 buys would have to see as a major win for the UFC and would make Rousey one of it's biggest draws.  300,000 – 400,000 would be deemed acceptable and anything below 300,000 would be considered a disappointment.
With Rousey already having a couple of movies lined up in 2014, the UFC is trying to get the most out of their newest main-stream star by declaring a few days ago that they are planning to have her fight three times this year in addition to her movie responsibilities, which would be an incredible feat without burning out.  With the recent talk of Cyborg dropping Tito Ortiz as her manager, potentially dropping to 135 lbs and possibly facing Rousey this year, it would likely be the UFC's biggest fight in 2014 when you consider the loss of Georges St. Pierre (on leave/retired) and Anderson Silva (broken leg/39 years old), two of their biggest stars and PPV draws.
Welcome to another edition of Payout Perspective.  This time we take a look at the Super Bowl Weekend card taking place at The Prudential Center in Newark, New Jersey.
Barao handles Faber
To paraphrase Richard Sherman, "Barao is the best fighter in the game, when you put up a mediocre turtle defense like Faber, that's the result, you going to get. "
A thumbs up couldn't stop Herb Dean from calling this fight off.  Even if the fight would not have been stopped, it likely would have delayed the inevitable.
Aldo demos Lamas
"I'm just 'bout that action boss. " – Money Lynch
At least rounds 1-4 Jose Aldo brought the action to Ricardo Lamas.  The combinations were devastating as were the leg kicks which were reminiscent of Aldo-Faber from WEC days.
Attendance and Gate
UFC 169 drew 14,308 in attendance for a gate of $1.651 million based on the announcement at the post-fight press conference. The last time the UFC came to New Jersey in April 2013 for Jones-Sonnen, it drew 15,227 for a gate of $2.7 million.  The actual numbers announced by the UFC point to a disappointing show when there was opportunity for bigger numbers with a lot of sports fans in the area for the Super Bowl.
Bonuses
Only Jamie Varner and Abel Trujillo received bonuses as there were no submissions on the card.  Notably, there were 10 decisions out of 12 fights on the card.
Varner and Trujillo received $75K for Fight of the Night and Trujillo scored the standard $50K for the KO of Varner.
Pre-UFC 169 Promotion
In order to appeal to those coming out for the Super Bowl, the UFC sent out an email to Seahawk fans (and likely Bronco fans) on its mailing lists reminding them of UFC 169 the day before the big game.
The UFC Countdown show worked around the language differences of Jose Aldo and Renao Barao to tell their stories.  I think this is a major hurdle in promoting both of these guys.  It's nothing against them but I think many English speaking fans find it hard to get behind them because English is not their first language.
The UFC also brought its championship belt to NFL Super Bowl media day but were quickly muted by NFL PR staff.  The NFL thought that the UFC was the WWE and didn't want it to outshine its day.  It was not until Jay Glazer straightened out the situation with the NFL did the staff at media day allow the UFC to stay so long as the belt didn't get on the podium.
Then, look which belt the Seahawk GM was wearing:
Probably small potatoes here, but shouldn't he be wearing the UFC belt?  According to SB Nation, the picture was taken prior to the Super Bowl so maybe there's an excuse for the UFC.
Sponsorships
The sponsors in the Octagon included the UFC"s UCasino.com, Dodge, Toyo Tires, Xyience, Harley Davidson, MetroPCS, Musclepharm, History Channel and Bud Light had the middle of the Octagon.
The History Channel's series, "The Vikings" was a sponsor for 169 and it showed a promo video that included lots of blood and gore.  "The Vikings" logo on the Octagon mat was pretty hard to see.
It appears that Auto Shopper received the same deal as Dynamic Fastener as many fighters had the two sponsors on their shorts.  Dynamic Fastener appeared to own the back side of fighter shorts while Auto Shopper had the front of shorts.
MetroPCS offered digital autographs of Urijah Faber.
Did you get your FREE digital autograph from @UrijahFaber? Tweet @MetroPCS w/ #TeamFaber to get yours! #UFC169 pic.twitter.com/zm1TnpA5v0

— UFC (@ufc) February 1, 2014
Post-UFC 169 Headlines
Who's next for Aldo?  Short answer is Anthony Pettis.  The cynical question is what to do when/if Pettis gets injured.  The Pettis showdown would mean Aldo gives up the 145 belt (I guess you can't hold belts in two different divisions) and the UFC could hype up a "superfight."
Anyone left for Barao?  Is this the definition of clearing a division?  While Aldo may have Chad Mendes left in his division if he decides to stay, Barao has no one compelling to defend his belt against.  Maybe Dominick Cruz if he can ever get back but aside from that, TJ Dillashaw?
Odds and Ends
Toyo Tires re-signed with the UFC and will be an official sponsor for the company through 2015.
I wonder if Chris Caraiso earned any extra points from his sponsor, Training Mask, after donning the mask before facing off at weigh-ins.
Speaking of weigh-ins, I do not recall ever seeing so many people excited about making weight.
Faber wearing Uggs at weigh-ins?  Does that make him the Tom Brady of the UFC?
Super Bowl Fact.  Super Bowl Rings:  Dan Marino – 0, Tavaris Jackson – 1
Conclusion
Unfortunately, the greatness of Renan Barao and dominance of Jose Aldo will not mean much when it comes down to PPV buys.  In retrospect, when Fox announced that the UFC would be a part of Super Bowl weekend, one would have envisioned much more of a collaborative promotion between the NFL-UFC and Fox.  However, there was not much in terms of promotion of this event.  Even when the UFC made an appearance at Super Bowl media day, they were not recognized by NFL PR.
The nonperformance of the marketing efforts aside, UFC 169 may not do well in terms of buys simply because of the fighters on the top of the card.  Fighters under 155 pounds do not draw on PPV.  Is the UFC doing these fighters a disservice by not marketing their divisions correctly?  Or, are the fighters not marketable?  Urijah Faber could have been that guy but with Saturday's loss he won't be able to get another shot unless Barao loses and Faber gets on another win streak. Arguably, the top three fighters in the UFC fight below 155: Aldo, Barao and Demetrious Johnson. But, that does not seem to equate to viewers.
Due to the card and the lack of buzz, UFC 169 will likely do somewhere around 200K PPV buys.
Sports Business Journal (subscription required) reports that boxing is set for one of its biggest years on PPV in 2014.  The question is whether fight fans will be willing to pay for all of the fights that will occur on PPV this year.
Canelo Alvarez will be prominently featured this year as Showtime and Golden Boy anticipate Alvarez to headline 3 major PPVs starting in March.  Showtime and Golden Boy will also have Floyd Mayweather for his customary Cinco de Mayo/Mexican Independence Day PPVs.
On the Top Rank side, it is expected that Manny Pacquiao will be back with two PPVs this year and it's anticipated Miguel Cotto will fight Sergio Martinez on PPV in June.
The article outlines the boxing PPV market over the past couple years in which it concludes that the PPV market should be reserved for "top shelf" fighters.  A prime example of how conservative boxing is with its PPVs occurred last month when Golden Boy decided to scrap an anticipated PPV with Marcos Maidana and Adrien Broner.  While the fight was PPV quality, it was likely the smart move for Golden Boy to hold off on putting it on PPV (note:  if you didn't have Showtime, you could have purchased the fight, but obviously we mean the whole card being on PPV).
According to SBJ research, last year, the overall buys for 4 events received 3,975,000 for a total revenue of $252.2 million.  The previous year (2012), 4 PPV events received 4,015,000 buys for $238 million.  As you can see the $75 Mayweather PPV seemed to help the total for last year.  For those wondering, 2011 sported 7 boxing PPVs for a total of 4,540,000 buys and revenue of $262 million.
The article also went into an extensive calculation of what may be considered a "successful" PPV for someone like Canelo which Showtime/Golden Boy would like to have as its top star after Mayweather leaves.  According to Golden Boy CEO Richard Schaefer he concluded with 200,000 buys and deducting the "50 percent cut taken by cable and satellite operators and the 7.5 percent paid to providers HBO or Showtime, the promotion would be left with about $5 million."  Schaefer goes on to extrapolate $1million for the undercard payroll, rights fees and foreign and closed-circuit sales which cover the marketing costs for the PPV.  In the end, Schaefer predicts a $4 million upside for the fighters which is a little better than if it were to be aired on HBO or Showtime.
Schaefer also noted that for a boxing PPV, its anticipated that 5 people are watching per buy whereas UFC PPVs are close to 9.
Payout Perspective:
The article is an interesting look at the boxing PPV market which is different than the UFC PPV market. There are at least 8 PPV fights anticipated this year.  The question will be how fight fans will decide how to spend their entertainment dollar.  2013 saw great strides in quality fights on HBO and Showtime and now see that some of the upper tier fighters will be on PPV.  But should there be some concern for the state of boxing PPVs?  Manny Pacquiao's last PPV fight in November was decidedly disappointing buy-wise.  Floyd Mayweather's first fight against Roberto Guerrero for Showtime/Golden Boy in May 2013 was lower than expected.  So, with more fights scheduled for PPV, and the new price point of $64.99 (which is likely), how receptive will fight fans be to more boxing PPVs.
MMA Fighting reports that Eddie Alvarez vs. Mike Chandler III will happen on PPV.  In an interview with Ariel Helwani, Alvarez broke the news that he will be in the main event of Bellator's first PPV sometime this year.
In the interview, Alvarez tells Helwani that he does not know what will happen if he wins.  Thus, Alvarez's contract status is still a big unknown after settling with Bellator late last year.
Alvarez also had some choice words for Ben Askren after his comments on Alvarez's legal contract battle with the company.
Payout Perspective:
Does an Alvarez-Chandler III PPV excite you?  Their fight at Bellator 106 on Spike TV received the highest viewership for the organization.  The two have had two great battles but the PPV success will depend on what other fights will support the main event (e.g. Rampage).  The other factor is price.  Bellator had tossed around $35-$45 for its initial PPV.  We will see how Bellator will market the PPV and whether it will create enough buzz for people to purchase it.
On Figure Four Online's podcast last night talking about the WWE Network launch details, Dave Meltzer also broke the news that UFC 168 did between 1 to 1.1 million PPV buys.  This is the highest PPV buy rate since July 2010.
Shane Carwin faced Brock Lesnar at UFC 116.  That show did just over 1 million PPV buys.  While there have been a couple shows since then that have hit the 900Ks in buys, the UFC has not seen another PPV hit this benchmark until now.
UFC 168 was fueled by the rematch of Anderson Silva-Chris Weidman and Miesha Tate and Ronda Rousey.  The marketing and promotion for this event was over the top as the UFC pulled out all the stops (except a UFC Primetime) in promoting the event.  For the most part, the fights did not disappoint except maybe for the gruesome ending of the Silva-Weidman match.
Also, the $5 bump in PPV cost did not seem to hurt the buy rate as many folks decided it was worth the extra money to watch the fights.
Payout Perspective:
Anyone else find it interesting that the UFC released its PPV numbers the same time that the WWE announced the details and launch date of its network?  Still, the numbers bring up the UFC PPV average for 2013 up to 475,385 (assuming 1.1M for UFC 168).  This outdoes the prior two years which shows that the UFC PPV business is not dying and it's still a viable revenue stream.  Is UFC 168 the recipe for PPV success?  If so, what was the driving force behind it?  The featured fighters or the promotion for the event?  Hopefully for the UFC, it will not be another 3 years before it sees another 1 million PPV event.
Now that thirteen UFC PPV's are in the books for 2013, we can start to analyze UFC's performance this year in terms of their most important revenue stream, PPV purchases.
Although PPV buys were estimated throughout the year, many are quietly adjusted and made more accurate throughout the year. Here is an updated list, which you can also find in our Blue Book Pay-Per-View section.
UFC PPV Buys 2013
| | | |
| --- | --- | --- |
| Event | PPV Buy Rate | Main Event |
| UFC 168 | ???? | Weidman-Silva II |
| UFC167 | 630,000 | GSP-Hendricks |
| UFC 166 | 330,000 | Velasquez-JDS III |
| UFC 165 | 310,000 | Jones-Gus |
| UFC 164 | 270,000 | Henderson-Pettis |
| UFC 163 | 180,000 | Aldo-Zombie |
| UFC 162 | 550,000 | Silva-Weidman I |
| UFC 161 | 140,000 | Evans-Hendo |
| UFC 160 | 380,000 | Cain-Bigfoot II |
| UFC 159 | 530,000 | Jones-Sonnen |
| UFC 158 | 950,000 | GSP-Diaz |
| UFC 157 | 450,000 | Rousey-Carmouche |
| UFC 156 | 330,000 | Aldo-Edgar |
- Total: 5.05M*, Average: 420K*
UFC Fighter PPV Average Buys 2013
| | |
| --- | --- |
| Fighter (main event) | PPV Buy Rate Average |
| Georges St. Pierre | 790,000 |
| Andeson Silva* | 550,000** |
| Ronda Rousey* | 450,000** |
| Jon Jones | 420,000 |
| Cain Velasquez | 355,000 |
| Jose Aldo | 255,000 |
* Excludes UFC 168
** Only 1 event used in average
Payout Perspective:
Some of the big updates to the list include the final number for UFC 167, which can now be listed at 630K PPV buys, which falls to one of the lowest PPV numbers GSP has pulled in quite some time but still ranks second in 2013 (excluding UFC 168).  The second number to look at is UFC 165: Jones vs Gustafsson.  This PPV number has now dropped to 310K, which is the lowest PPV buy number Jones has ever done as a champion.  UFC 159: Jones vs Sonnen also suffers a slight drop from 550K to 530K buys.  Last but not least, is UFC 161′s buyrate of 140K, which ties UFC 147: Frankling vs Wandy II, which is the lowest UFC PPV Zuffa has promoted in the last 10 or so years. On the positive side, UFC 163: Aldo vs Zombie gets a small boost from 170K to 180K PPV buys.
In terms of PPV draws for 2013, GSP is once again the PPV king, followed by Anderson Silva, Ronda Rousey, and Jon Jones.  Cain Velasquez and Jose Aldo come in near the bottom.  Its also important to note that the UFC will be without GSP and Anderson Silva for at least most of 2014, so it is going to be a trying year with many obstacles to overcome.
Reference:  MMA Payout's Blue Book &  Dave Meltzer (The Wrestling Observer).
Welcome to another edition of Payout Perspective.  This time we take a look at the last UFC event of 2013 from the MGM Grand Garden Arena in Las Vegas, Nevada.
Weidman retains belt after Silva breaks leg
Corey Hill. That is what went through my mind as Anderson Silva's shin was shattered on a Chris Weidman leg check.  Many may recall the lanky TUF competitor breaking his leg on an eerily similar
Leg checks are gruesome as it is and Silva's kick that broke his leg looked like it was right on Weidman's knee.
It appeared that Weidman may have knocked out Silva in the first but Silva was able to survive round 1 and even bloodied Weidman.  Although Weidman likely won round 1, the fight was still up in the air before the kick despite folks concluding that Weidman would have won the fight.  Weidman did look much improved from July and solidified his standing as the division's champ.  It appears that Vitor Belfort may be next.  The question is will it be in Vegas or Brazil?
As for Silva, it's likely the end to his career.  At 38, Silva has had a successful run and should be financially set for the rest of his life.  We may see him in the UFC in some sort of emeritus role but never again in the Octagon fighting.
Rousey armbars Tate to retain title
Ronda Rousey submitted Miesha Tate although the challenger put up a fight and was the crowd favorite throughout.  Rousey refused a Tate handshake at the end which solidified her as the heel.
Tate was a heavy underdog and it seemed that surviving the first round was a victory in itself.  Despite not getting armbarred in the first or second round, Rousey was still dominating the match.  Her Judo was exceptional and one has to wonder why attempt to take Rousey to the ground when Tate scored with shots on her feet.
Rousey has a quick turnaround as she fights Sarah McMann on February 22nd.
Some have speculated that the Rousey-McMann fight was made to coincide with the Winter Olympics.  Both were medalists in the Olympics.  The only problem with this theory was that Rousey and McMann competed in the Summer Olympics.
Browne KOs the Warmaster
Travis Browne used his elbows to KO Josh Barnett in what was a mini-upset.  Browne propels himself to a fight with Fabricio Werdum with the fighter likely getting Cain Velasquez.
Attendance and Gate
As announced at the post-fight press conference, it was the second-highest gate for an MMA event in MGM history with 15,650 for a gate of $6.2 million.
Bonuses
Rousey, Tate and Browne were the recipients of the fight night bonuses.  Instead of the standard $50K each, the UFC upped the bonus to $75K.
FOTN – Rousey-Tate
Sub – Rousey
KO – Browne
As we previously pointed out, Jim Miller should have received the Submission of the Night with his slick setup and eventual arm bar of BJJ Black Belt Fabricio Comoes.
Salaries
The Nevada State Athletic Commission revealed the pay of the top 3 fights on the card (via MMA Junkie).  The rest of the card should be made public later this week.
Chris Weidman received a big pay increase in pay in his first title defense.  He received $200K to show and another $200K for the win for a total of $400K.
Silva received $600K and would have made another $200K if he won.
Rousey made $50K/$50K but with another $150K in bonuses she tallied $250K for the night.  Tate made $28K and another $75K for $103K.
Josh Barnett made $170K and Travis Browne made $56K ($28K/$28K) plus his $75K win bonus for a total of $131K.
Raise in PPV Price
One of the surprises that came before the fight was the $5 bump in price for the last PPV of the year.  UFC 168 was the first at $59.99 (HD) and $49.99 (SD).  White indicated that this would be the only time it would raise its price.  However, there is some confusion as to whether the $59.99 will remain in 2014 as the current prices on the UFC web page list UFC 169 an 170 at $59.99 although there are reports the listed price is a mistake.
There were many promotional commercials leading up to 168 that still promoted the PPV as $54.95 although you were likely made known of the price change when you went to order.
The rise in the price could mean more people went to bars to watch the PPV and maybe more fight parties.
Promotion of the Fight
The UFC went all out for UFC 168 with branding all over the MGM Grand including the key cards, slot machines and gaming felt.  I can attest the UFC has done the gaming felt back in the Tito Ortiz days (circa 2006).  Still, the constant reminders of the fight likely helped out.
ESPN got in on the action as it let Dana White take over its twitter and Instagram accounts on Saturday to hype the fight.  The obvious conflict is that White's company is featured on ESPN's newest competitor, Fox Sports 1.  The fact White is allowed to promote on ESPN and that ESPN wants White to promote the UFC infers that MMA is legitimately making strides as a sport that is newsworthy (well, except that ESPN got rid of the over the air version of MMA Live).
UFC used FS1 to promote the fight and showed Weidman-Silva I and also aired "Fighting Words" which was an interesting look at the first fight that included audio of the corners that caught what each said to their fighters.  It also included interviews by both fighters and audio from Jon Jones and Urijah Faber at the fight.  While UFC Primetime has been shut down, this show did a great job in recapping events leading up to the rematch.
The Saturday morning edition of Good Morning America did a spot on Ronda Rousey which is a pretty big even if it was the weekend crew of GMA.
Fight Pass
The UFC held a press conference prior to the fights to announce the UFC's new digital network, the UFC Fight Pass.  More on this later but the sweetener for UFC fans is that it is giving users 2 months free before it charges your credit card $9.99 per month.
Sponsors
Sears was the newest "big" sponsor to the Octagon.  Maybe a "one off" but I'm sure the UFC hopes that it can bring it in as an official sponsor.  Tapout, MusclePharm, Harley Davidson, Toyo Tires, Cinemax's "Banshee", Peter Berg's movie, "Lone Survivor", WarGaming.net, MetroPCS and Bud Light with the center.
UltimatePoker.com had the prep point outside the cage and AXS TV had the official weigh-ins.
Harley Davidson ran a promotion for its Project Rushmore motorcycles in which the winner of Weidman-Silva would win a motorcycle.
MetroPCS also had a unique activation for this event where twitter users could obtain a "personalized" digital photograph of Ronda Rousey.
Interesting sponsor of the night:  Autoshopper.com.  It was on a number of fighters including Miesha Tate.
1Law.com, a law firm out of Utah picked the right fighter to sponsor as it was on the front of the shorts of Travis Browne as he KO'd Josh Barnett.  It has sponsored Browne in the past.
Monster (an official UFC sponsor) headphones are going to be around more and more heads in the Octagon so get used to them having them on and not listening to anything.
Nike was noticeably absent from Anderson Silva.  When asked by Ariel Helwani in a pre-fight interview, Silva told him to ask Dana.  White deflected comment but it was clear that Nike did not pay or would not pay the sponsor fee for Silva this time around.  To be clear, Nike still sponsors Silva, it's just that he was not on Silva's shorts, shirt or banner.
Rousey was sponsored by the UFC in what looked like signature gear.  She was also sponsored by Xyience.
Tate had a number of sponsors including Autoshopper.com, Venum, Affliction and Training Mask.
Silva did have less sponsors this go round.  He had Wizard, Burger King, computer maker Lenovo and soccer club Corinthians Paulista.
Weidman had an assortment of sponsors including Bad Boy Club, Oak Grove Technologies, American Ethanol, Monster and investment firm InCapital.
Post-UFC 168 Headlines
The new faces of the UFC.  Saturday we saw the two new faces of the UFC in Ronda Rousey and Chris Weidman.  With GSP and Anderson Silva gone within weeks of each other, Weidman should be marketed as the top UFC guy.  Even though Jon Jones has a fair argument here, his last couple of fights have not equated to PPV success.  Weidman took down the GOAT twice and we will see how long he can defend the belt in this division.
Despite being the "heel" against Miesha Tate, Rousey has the "it" factor that draws people to watch her.  She is brash, dominant and that look of determination walking to the ring would have anyone hiding their arms around her.  The question is whether the fame and time obligations may catch up to her.  With her next fight so close to this one and coming off of shooting two movies, we will see if it catches up with her.
Odds and Ends
-The UFC offered closed circuit of the fight at the MGM for $60 per person.  I do not believe the UFC put this PPV in movie theatres.
-There were over 5 million Google searches for Anderson Silva on Saturday night.  Most searchers likely wanted to see an image of his broken leg.
-It was the first time I recall the main event fighters coming out from different sides of the curtain at the weigh-ins.
-Over 14.6K people were on YouTube at the start of the very first fight which bodes well for viewership for the rest of the card.
-Rumors of Brock Lesnar in Vegas during UFC 168 is reminiscent of the two guards that sat in the courtroom that unnerved Colonel Jessup in "A Few Good Men."  In other words, the UFC could have just flown Lesnar out to Vegas and create a story that wasn't there.
-Rousey and Tate are complete opposites and this was most telling in their walkout songs.  Katy Perry (Tate) vs. Joan Jett (Rousey).
-Due to the short fights, there was a lot of downtime and "commercials" and the live fights ended at 9:30pm PT.
-Buried by the main event stories was the second straight impressive win by Michael Johnson on the Prelims.
-Uriah Hall saved his job, while Chris Leben likely heads to retirement.
-Marc Jacobs is selling a Ronda Rousey t-shirt.
-Anyone else notice that the broadcast team kept pumping up the odds including right before the Tate-Rousey fight.  That might not be new, but what was new was that it directed people interested in odds to the UFC web site.
Conclusion
The hype for this fight was the biggest this year and the women co-main event had a lot to do with it.  It may be one of the highest HD PPV buys ever.  There was a lot of mainstream buzz for the fight which not always transfers into PPV purchases. But I think the buzz helped.  Despite the protests about the price increase, it will likely not affect the final PPV buys.  An estimation of around 750K PPV buys should be attainable if not surpassed after all is said and done.
To say that tomorrow's UFC 168 is an important event for Zuffa this year would be quite the understatement.  In fact, the focus placed on UFC 168 has been so strong that some have argued that it has actually undermined the UFC events in between, which caused them to under perform. We will take a look at some of the numbers and the promotion being put together the week leading up to the event.
The UFC announced on July 13th, 2013 that the highly anticipated rematch between new Middleweight champion Chris Weidman and MMA legend Anderson Silva would take place on UFC 168, making Rousey vs Tate 2 and incredibly strong co-main event for the casual fans and mainstream. Since that announcement was made, about 5 months before the event was to take place, the UFC made it no secret it would be heavily promoting the event, which include an entire season of TUF dedicated to pitting both coaches on the PPV along with countless of media appearances and press conferences.  To summarize, the UFC has been promoting UFC 168 for five months straight hoping to cash in big at the end of the year.
In that span, the UFC has hosted four PPV events, from UFC 164 to UFC 167, and all have arguably underperformed.  Pettis vs Henderson, the highly anticipated rematch from WEC, which produced the Showtime Kick, drew less than 300,000 buys.  Jon Jones was the first noticeable casualty, drawing his lowest PPV buy rate since becoming champ.  Velasquez/JDS III drew 330,000 viewers while Velasquez/JDS II drew 590,000 the previous year.  GSP's 630,000 PPV buys are the lowest since UFC 87 in 2008 against Jon Fitch z9 not to mention that it was the UFC's anniversary event).   All events underperformed, but will the gamble to place most of the attention on UFC 168 for almost half a year pay off? They are certainly betting on it.
| | | |
| --- | --- | --- |
| UFC 168 | ???? | Weidman-Silva II |
| UFC167 | 630,000 | GSP-Hendricks |
| UFC 166 | 330,000 | Velasquez-JDS III |
| UFC 165 | 325,000 | Jones-Gus |
| UFC 164 | 270,000 | Henderson-Pettis |
The UFC has gone all in the week heading into UFC 168 with countless ad spots on FOX Sport properties and key big FOX spots during NFL programming.  The UFC even scored an appearance in Good Morning America this morning. To put it bluntly, a lot of money was spent on promoting UFC 168 and considering that UFC predicted the event would be as big as UFC 100 (1.6M buys), they really had no choice.  Then again, the UFC also bumped up the PPV price by $5 just for this event, hoping to reach UFC 100 levels of revenue even they most likely won't be able to match the buyrate.  This week, Dana White estimated the gate for UFC 168 to be around $6.3M already, which would place it among the top gates in the company's history.  It also appears that ESPN is all in for this event, which has historically meant good things for the UFC.
Now, is the event a shoe in to become a huge PPV success? Well, not necessarily.  End of the year between Christmas and New Years has always been a tough sell due to the festivities, new toys, NBA, and CFB Bowl games. UFC 141 hosted a huge main event between Brock Lesnar and Alistair Overeem, two of the biggest and physically gifted athletes in MMA.  Lesnar had been a shoe in for 1M PPV buys for years with the UFC, and adding an opponent like Overeem seemed like a PPV buyrate slam-dunk. Only, it didn't turn out that way.  The event ended up doing around 535,000 buys, which is nearly half what most expected, though there were a few key differences between that event and UFC 168.  One major factor was holding UFC 141 on December 31st (Friday night) where UFC 168 is being held on the more traditional Saturday night time slot. Lesnar had also lost his belt for that bout for his bout against Overeem after being dominated by Cain Velasquez along with many health concerns.  However you slice it, UFC 168 will be a hugely successful event, though the question of whether it can crack the 1M PPV buyrate which Lesnar and only a couple of other main events have been able to accomplish in the past 5 years is still up in the air.
Lets take a look at some of the promotion:
The MGM Grand in Las Vegas has been completely taken over ahead of Saturday's UFC 168. #DanaCenter pic.twitter.com/ZvcL753fKW

— SportsCenter (@SportsCenter) December 27, 2013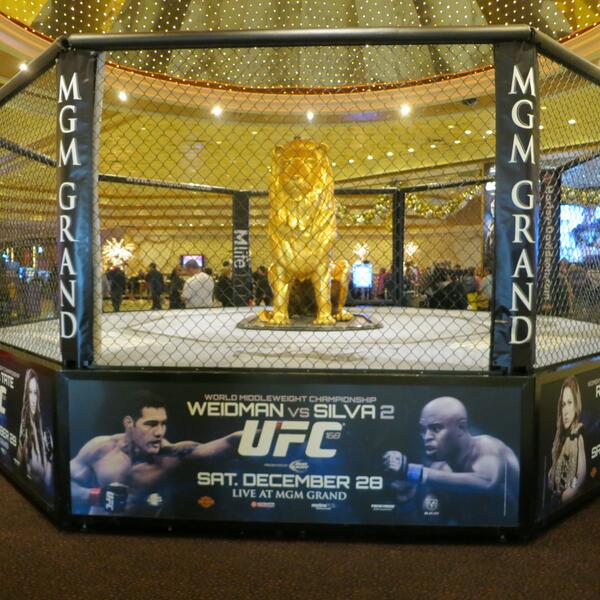 #UFC168 weighins almost here! pic.twitter.com/ZjSzL4UBgn

— MMAWeekly.com (@MMAWeeklycom) December 27, 2013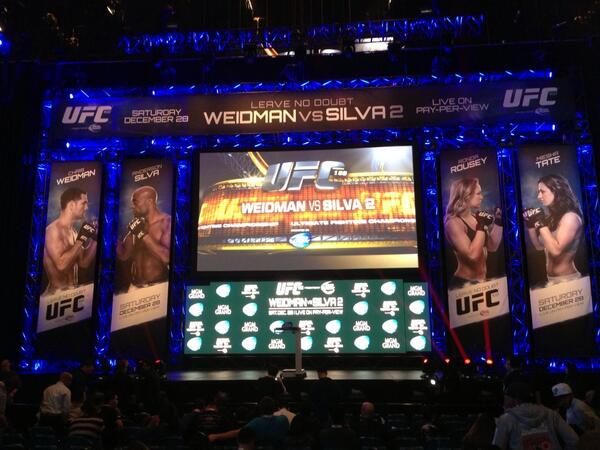 #UFC going all out promoting this one. pic.twitter.com/hxWaa1wrGz

— MMAWeekly.com (@MMAWeeklycom) December 27, 2013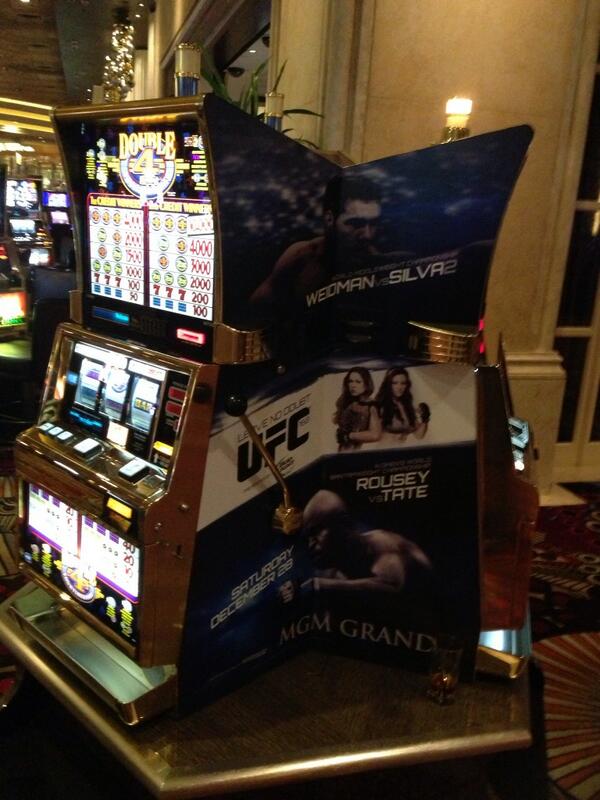 See what we mean? #UFC going all out … Or is this all in?!!! #UFC168 pic.twitter.com/5aO7A3Fkwc

— MMAWeekly.com (@MMAWeeklycom) December 27, 2013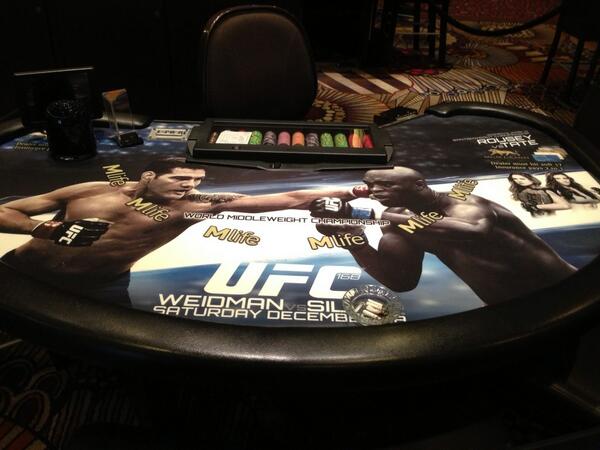 New Post – Dana White to take over SportsCenter's Twitter and Instagram on Saturday http://t.co/VvjgZNgJ5g

— Awful Announcing (@awfulannouncing) December 27, 2013
How much buzz does #UFC168 have? @GMA confirmed for interview with @RondaRousey tomorrow. Set to air on Saturday morning. Cc: @RyanGrabUFC

— Dave Sholler (@Sholler_UFC) December 27, 2013
I don't know about y'all but I am HYPED for this #UFC168 tomorrow night! Gonna be a great one! @danawhite puts on one hell of an event.
— Justin Timberlake (@jtimberlake) December 28, 2013
If I were to tell you that the UFC is having a strong year with its pay per view business you would think that someone sponsored this post.  However, the UFC is set to improve over its 2011-2012 PPV averages.
Through 12 PPVs it is averaging approximately 423K PPV buys for 2013.  Even if UFC 168 hits 1 million PPV buys, a benchmark it has not hit since 2010, it would average 467K PPV buys for 2013.  While this sounds bad for the UFC, it's likely that the company will eclipse its 2012 PPV average of 448K PPV buys (over 13 events) and 2011 PPV buy average of 413K (over 14 events).
Expectations for these events may have overshot the actual PPV buy rates.  UFC 167's buy rate of 625K has to be a disappointment considering GSP is a reliable PPV star for the company, there was much buildup for the event and the rumors that 167 would be GSP's last.  Yet, the 625K PPV buys is one of GSP's lowest since being a headliner.  The GSP-Diaz 950K PPV buys earlier this year has to be attributed to Nick Diaz and "wolf tickets".  It also shows that UFC events sell much better when there is some animosity between the main event competitors.
Jon Jones has seemingly not produced as expected as a main eventer.  A heated rivalry between Jones and Chael Sonnen did not occur on TUF and while their fight at UFC 159 drew 550K, Jones' follow up fight against Alexander Gustafsson only drew 325K PPV buys.
Anderson Silva, another fighter that has contributed to UFC PPV success drew 550K in his only fight of the year so far at UFC 162 against Chris Weidman.  The UFC should expect a better PPV average for this Saturday in their rematch.  But with a loss, this could be the downturn for the Spider on PPV.
Ronda Rousey should be another fighter to be on the lookout for in 2014.  She headlined (along with Liz Carmouche) UFC 157 over Lyoto Machida and Dan Henderson.  In the end, UFC 157 drew a respectable 450K PPV buys and a lot of mainstream attention.  Will Rousey be a fighter that will attract the PPV crowd?
UFC PPV Buys 2013
| | | |
| --- | --- | --- |
| Event | PPV Buy Rate | Main Event |
| UFC 168 | ???? | Weidman-Silva II |
| UFC167 | 625,000 | GSP-Hendricks |
| UFC 166 | 330,000 | Velasquez-JDS III |
| UFC 165 | 325,000 | Jones-Gus |
| UFC 164 | 270,000 | Henderson-Pettis |
| UFC 163 | 170,000 | Aldo-Zombie |
| UFC 162 | 550,000 | Silva-Weidman I |
| UFC 161 | 150,000 | Evans-Hendo |
| UFC 160 | 380,000 | Cain-Bigfoot II |
| UFC 159 | 550,000 | Jones-Sonnen |
| UFC 158 | 950,000 | GSP-Diaz |
| UFC 157 | 450,000 | Rousey-Carmouche |
| UFC 156 | 330,000 | Aldo-Edgar |
Some interesting notes from the PPV buys this year.  Jose Aldo headlined two PPVs.  Although Benson Henderson does well with Fox ratings, it does not translate to PPV buys.  His rematch with Anthony Pettis only drew 270K PPV buys.  UFC 161 had to revamp its main event due to an injury to Renan Barao but it definitely was a PPV event that UFC fans chose to skip.  The UFC heavyweights did not produce buy rates this year as reflected by UFC 160 and 166.  This is surprising considering that Cain Velasquez going into UFC 160 had averaged 733K PPV buys (over 3 PPV fights) since defeating Brock Lesnar at UFC 121.
All PPV buy rates from MMA Payout's Blue Book and thanks to Dave Meltzer of The Wrestling Observer.
Invicta FC found itself with another issue with its tries at a pay per view. Due to streaming issues on its web site and television issues, it had to take down its paywall on its web site and will have to issue refunds for the event.
To Invicta's credit, it will issue those refunds and has placed the entire event on its web site for free. But the issue remains with Invicta's efforts in trying to monetize its product. Invicta FC head, Shannon Knapp, indicated that via twitter that they crashed the pay wall servers causing the issues.
.@InvictaFights we crashed the pay wall servers again! We will issue refunds 2 those that bought online & request a refund. Thanks 4 support

— Shannon Knapp (@shanknapp) December 8, 2013
The spin here is that so many people wanted to see the fights that it caused the pay wall issues. The problem is that its business model is not working.
Payout Perspective:
This summer we wrote about the issues with iPPVs and whether a small organization could make money putting on a show. Interesting enough, we spoke with UStream with respect to the issues Invicta FC had with its service with its first iPPV problems.  UStream indicated that the issue was an "overload of requests" to order the event in a short period of time.  Invicta was contacted for the article but did not respond.
On Saturday, Invicta used, DaCast, to stream its PPV.  However the change from UStream did not resolve the issue of having a working pay wall while maintaining a streaming PPV.
While it appears that women's MMA is gaining interest among fight fans, Invicta must resolve its problems in monetizing its product. Knapp continues to work toward a TV deal and it would benefit the company to find a television partner rather than continue to seep money when its PPVs do not work.