Welcome to this week's edition of MMAterial Facts, where we feature articles from around the MMA community.
***
This week's MMAterial Facts:
– Spike TV pulls a page out of the Antonio Inoki playbook with King Mo (Fight Opinion)
"What Spike TV is trying to accomplish with King Mo is an interesting experiment, one that they probably decided to emulate less on what happened in Japan and more on what's happened with Brock Lesnar & Kurt Angle's goofy deulsions of wanting to cross-over between the two industries. Lesnar being the #1 UFC PPV attraction immediately signaled the huge cross-over between pro-wrestling fans and MMA fans. MMA attracts less 'real sports' fans and more wrestling/entertainment fans. So, naturally, Spike TV put two and two together to try to pull off the experiment they are about to attempt here with King Mo."
– Nick Diaz's wild weekend in review: No shows Brazilian jiu-jitsu superfight against Braulio Estima (MMA Mania)
"But perhaps there's more to the story. In fact, Diaz's biggest supporter in the media, Middle Easy, has spent the better part of the past two days going to bat for him and proclaiming the promoters of the event were shady. There was also a weigh-in snafu with Estima, who apparently missed weight the day before but was able to make weight the day of the contest.
…
And somewhere in between someone was trying to switch up the rules. Or something like that. That's what he said or she said or they said or someone said and somehow speculation became fact and vice versa and the entire ordeal is one big mess."
– Phil Davis Vs. Chad Griggs Placed On UFC On FOX 4 Card (MMA Convert)
"Phil Davis will look to rebound from his first career loss in August when he takes on Chad Griggs.
…
The UFC announced the bout Monday for the August 4 UFC on FOX 4 card. The event will take place in Los Angeles, with Hector Lombard vs. Brian Stann set as the main event."
– Dustin Poirier: 'Fans Can Expect Everything From Me, Even The Kitchen Sink' (FightLine)
"Right now I feel like I am the best I have ever been technically," Poirier told FightLine.com. "I know I am still growing as a fighter, but this is the best I have ever felt mentally and physically. I'm ready to do battle, my nutrition, my workouts are at their peak right now. I'm ready for a main event fight and to go five rounds. I feel like I am a faster, more technically sound striker than Jung and I'm sure he believes the same things. I feel like I can out-wrestle him, my BJJ is just as good as his if not better, I feel as though I match up really well against him."
– Gegard Mousasi out until at least November with torn ACL, has 6-7 fights left for Strikeforce (Five Ounces of Pain)
"I had one fight left. Then I was hoping maybe to go to the UFC after that, but then they offered me – they said we're going to give you a new contract. So I signed for another six fights. Now I have a six (or) seven-fight deal, I believe, in Strikeforce," explained Mousasi. "(Zuffa) said the Strikeforce fighters were going to stay with Strikeforce. And that's the thing that it was, so we signed again."
– Busy Week Awaits Zuffa (5thRound)
"After enjoying a brief 10-day hiatus, Zuffa, LLC comes storming back with a vengeance this week. The world's most prestigious mixed martial arts promotion will be hosting a pair of shows on two different coasts within a 96-hour span.
…
"UFC on FUEL TV: Korean Zombie vs. Poirier" takes place Tuesday inside Patriot Center in Fairfax, Virginia. The freebie fight card is headlined by a pivotal featherweight affair between Chan Sung "The Korean Zombie" Jung and Dustin Poirier."
– James Wilks announces retirement from MMA: spinal injury  (LowKick)
"Wilks told MMAjunkie.com: "It must have been from rugby because I was asked when my neck got broken, and I said I'd never broken it, and then they showed me the X-ray."
…
The doctors advised him that he has severe spinal stenosis, which results in an acute narrowing of the spinal canal and that he would have a "significantly high risk of paralysis" if he resumed his professional fighting career."
– Vinny Magalhaes selling M-1 championship (TheFightNerd)
"I will stray from chronicling the entire feud between M-1 light heavyweight champion Vinny Magalhaes and M-1 Global, but it seems that Vinny is now auctioning off his championship belt to the highest bidder on eBay. As of 11:30 PM on Sunday night (when I am writing this), the belt is going for $710, with nine days left to bid."
– Georges St-Pierre Says He Is Open to Headlining UFC Event in January 2013 (BleacherReport.com/MMA)
"I'm at the last stage (of recovery). I'll be back pretty soon," St-Pierre said during an exclusive interview with Showdown Joe Ferraro on UFC Central.
…
St-Pierre said he hopes to make a full recovery by November, which could see the champion headline UFC 150 in Montreal."
Welcome to this week's edition of MMAterial Facts, where we feature articles from around the MMA community.
***
This week's MMAterial Facts:
– Nevada amends complaint against Nick Diaz, shifts strategy (Fight Opinion)
"After Team Diaz filed their response to Nevada's complaint, Keith Kizer telegraphed (in the media) what the response would be. Rather than confront what Goodman & Tweedale are arguing regarding WADA standards & Nevada law, Keith Kizer & company are now shifting to what I call "the Al Capone" strategy. Kizer's side is now going after Team Diaz over the way the medical questionnaire was answered regarding Nick Diaz & his medical marijuana usage.
…
I guess it isn't a total surprise to see Nevada shift their complaint strategy since they hinted this would be the direction they would be heading in, but to see it on paper and the complaint amended is rather interesting."
– King Mo Lawal considers WWE while Bellator & Super Fight League show interest (MMA Mania)
"Brock Lesnar recently retired from mixed martial arts (MMA) and he's already reportedly signed a one-year deal with the popular pro wrestling promotion, potentially to debut at tonight's WrestleMania 28 event.
…
But another fairly high profile fighter is reportedly expressing interest in making the jump to the scripted entertainment world — Muhammed Lawal. And it's not even the first time he's flirted with the idea.."
– After Issues On TUF: Live, Dana White Promises No More 3-Minute Breaks (MMA Convert)
"We were on a network commercial break. You can't break a network commercial break. We need to fix that. This is a live sporting event, and we need to be on our toes knowing that we can go to another round. We have a 60-second commercial, and you come right back to the fight. That was bad. What are you going to do? We can't pull out of a network break, so we need to figure that out and fix it."
– K-1 is coming to New York and Los Angeles THIS year! (MiddleEasy)
"If you are a fan of martial arts and kickboxing and you live in the United States, your day might be coming and very soon. The same can be said for fighters within the US who are sick of fighting for paltry sums of money in the regional muay-thai scene, as part of K-1's press release today, two events within the United States were listed. Of the seven projected dates, two are within the United States. Early September is penciled in for the U.S. Qualifying Tournament, with the winner being placed within the World Grand Prix. The other event listed within the United States? None other than in December for the K-1 World Grand Prix Finals in New York City. If you've had behind-the-scenes information, there has been talk of K-1 in New York for a few years now, first in a partnership with HDnet, then possibly with a local promotion and now this."
– "ONE FC 3: War Of Lions" Results: Moreira, Kawajiri Earn Submission Wins (FightLine)
"ONE Fighting Championship held its third professional card early Saturday morning from Singapore, as Zorobabel Moreira met Felipe Enomoto in the main event of War of Lions. The card was streamed live on YouTube from the Singapore Indoor Stadium in Kallang."
– *UPDATE* [VIDEO] Anarchy in the UK: Riot Breaks out at Lockdown MMA Event (Cage Potato)
"This wasn't your "Drunk, Affliction wearing fauxhawk guy trades telegraphed haymakers with drunk, Silver Star wearing tribal tattoo guy" brawl that you occasionally see at live events. This was a full blown riot that saw fans throwing bottles and chairs at each other for several minutes. Fortunately, a Cagepotato reader (who wishes to remain anonymous) tipped us off as to what started the riot, which is available after the jump."
– AFC 2 Results: Patrick Cote wins fourth straight, Thales Leites avenges loss to Matt Horwich (Five Ounces of Pain)
"The rapidly ascending popularity of MMA in Brazil was on display last night in Manaus when Amazon Forest Combat put on their second ever event, lining the card with a handful of well-known fighters in addition to local products. The main event featured UFC veterans Murilo Bustamante and Dave Menne matched up in what was likely the last fight of Bustamante's widely-respected career."
– Welterweight Semifinals Pairings Set, Tournament Resumes at 'Bellator 67′ (5thRound)
"After kicking off the opening round of their Welterweight Tournament on Friday night, Bellator CEO Bjorn Rebney announced the tourney would resume at "Bellator 67″ on May 4th. Casino Rama in Ontario, Canada will host the festivities.
…
Rebney also confirmed the pairings for the four remaining contestants. Ben Saunders (Pictured) will face Bryan Baker, while Karl Amoussou meets David Rickels Karl on the opposite end of the brackets."
– Freddie Roach says Anderson Silva is "just way too big" to fight Georges St. Pierre (LowKick)
""I'd probably say that Anderson Silva hits harder (than Georges St. Pierre) because he's a lot bigger. Georges is a good puncher also, but the thing is, size wise, I think that Anderson's a little more fluent at this point. He's a lot bigger than Georges, of course. So, that's why I don't think that fight – they've been talking about that fight happening, I don't think it will happen."
– Promoter says New York Officials have "Been Cooperative" for Sanctioned Amateur MMA (TheFightNerd)
When it was announced this week that the TNT Fight Series would be the first amateur MMA card to be sanctioned in New York since state authorities tried to stamp out the practice in 2002, thoughts of controversy and conflict with government officials came to mind for everyone except the people running it. Fighter and promoter of the TNT Fight Series Erik Herbert went on the record with The Fight Nerd.com last night to describe what has been a thus far smooth ride with the sanctioning body and local government."
– Dana White on Pirating: F**k You, We're Coming After You Criminals (BleacherReport.com/MMA)
"There's this whole generation out there that grew up getting free sh*t on the Internet, so they think everything on the Internet should be free. It ain't how it f**king works, man. The music industry was single-handedly destroyed by the Internet. The Internet destroyed the music business. They'll tell you that. It's a fact."
Welcome to this week's edition of MMAterial Facts, where we feature articles from around the MMA community.
***
This week's MMAterial Facts:
Courtesy of UFC

– Nine Ways of Looking at UFC 142 (MMA Fighting)
"Let's take a minute to thank the Brazilians for being such good sports about the late start time for this event. In order for the UFC to stick to its preferred 10 p.m. ET pay-per-view start time and still go live, the local crowd will be showing up for a main card that doesn't begin until 1 a.m. local time. As our own Ariel Helwani pointed out this week, that means they could be waiting until 3:30 a.m. for the main event to get started. "
– Video: Anthony Johnson's 'Wanna get away?' moment on the scale (Fight Opinion)
"He used to fight at 170 pounds and was the bane of Dan Hardy's existence. Trouble making Welterweight, Anthony Johnson was set to make the move to Middleweight on Saturday to face Vitor Belfort. When it came time for weigh-in… he was 12 pounds over the established weight for the fight. Medical reasons or not, one thing is for certain — Anthony's future in MMA is at Light Heavyweight or Heavyweight. Middleweight doesn't look to be sustainable for him.
…
He weighed in at 197 pounds for a Middleweight fight… and he was cutting to make Welterweight a year ago. How did his body survive that massive weight cut? The penalty for not making weight? 20% purse reduction.
…
If Rumble is over 205 pounds on Saturday, the fight will be canceled… live. In front of fans who told him and Chad Mendes that they will die on Saturday night. That's a hospitable atmosphere…"
– Davis says to give the next title shot to Dan Henderson (MMA Mania)
"Give it to Hendo. I ain't losing. Give it to Hendo. I don't care either way. You can give it to Hendo and there will still be a belt when I get there. There will still be a belt when I get there. I don't care who the person is that has the belt but there will be a belt when I get to it and that's all that I'm concerned about. If somebody else gets to fight the champ before I do, that's fine with me."
– UFC 142 Weigh-Ins, Pics & Video: Anthony Johnson Misses Middleweight By A Mile (MMA Convert)
"After cutting to 170 pounds for years, it seems Anthony Johnson vastly underestimated his first cut to 185 pounds because he missed that mark by a mile at today's weigh-ins, coming in 11 pounds over his 186 pound target. Johnson will forfeit his 20% of his purse to Belfort and perhaps more punishing, Johnson will have to weigh-in again tomorrow for the fight at no more than 205 lbs. per Belfort's demand to continue with the fight. Johnson stated he was weighing 215 on a conference call last week, so in essence he won't be able to fully rehydrate for the fight which could have devastating effects on his performance."
– UFC Sweden completely sold out within the first hour of sales (MiddleEasy)
"It seems that the UFC's upcoming event in Globe Arena in Stockholm was sold out in just one hour after the tickets went to public sale. According to some fans Ticnet's customer service said that the event was sold out 30 minutes after the sales started.
…
UFC Fight Club members and UFC Newsletter subscribers already had their chance to buy tickets from a pre-sale on Wednesday and Thursday while the rest had to wait till Friday to get a chance to buy tickets. Fast ticket sales is just another sign that the Nordic MMA fans have been waiting for a long time for the UFC to land in the Northern Europe."
– Matt Hume And Bibiano Fernandes Refute 'Fedor Diva' Rumors (FightLine)
"But, what really happened was that Fedor was in doing interviews, and everyone was waiting on the two buses, and Fedor was to get on one of those buses and go back. So, both buses were waiting for him. Everybody else had finished their press, but, of course, Fedor is very popular in Japan, he had not finished his press yet, and they were still keeping him there. So, everybody was staying there waiting. So, Fedor asked if they could let the people go who wanted to get back to their hotel."
– Gallery: 20 Incredible Works of MMA Fan Art (Cage Potato)
"We've seen some bad, bad MMA fan art in our time. (Like, really bad.) So it came as a relief when we recently stumbled upon MMAFanMade, a tumblr account that showcases the best MMA-themed art and artists on the Internet. We decided to cherry-pick some of the site's highlights, mix in a few old classics, and put 'em all together in the gallery above."
– TUF Brasil finals, Vitor Belfort-Wanderlei Silva headed to summer PPV (Five Ounces of Pain)
"However, according to the UFC, it appears their fight in addition to the two TUF finals will take place on PPV as part of a massive June card possibly headed to Sao Paolo. The show would also host Anderson Silva vs. Chael Sonnen II assuming things fall into line and Sonnen defeats Mark Munoz later this month at UFC on FOX 2."
– Dana White Rips Anthony Johnson for "Unprofessional" Behavior (5thRound)
"Rumble is not on-weight, and when I say he's off-weight, he's way off-weight," an irked White said. "The way this normally works is, Vitor Belfort can come in on-weight, Vitor is at-weight, and he would get 20 percent of Johnson's purse.
…
"The stipulation is, Vitor does not want him to weigh more than 205 pounds tomorrow by like 2 o'clock in the afternoon. So we're going to have to see how this thing plays out."
– Anderson Silva reveals he is suffering from a back injury (LowKick)
"Silva recently began training again, but it looks as if he has suffered another injury. According to the UFC Middleweight champion, "I'm not sure when I'll come back because I'm still with a shoulder injury, another injury arose recently on my lower back, so I'm getting treatment." – for more see Tatame.com"
– Movie Review: Haywire (TheFightNerd)
"In spite of a tumultuous time during development, the latest Stephen Soderbergh spy thriller "Haywire," starring former "face of women's MMA" Gina Carano, is slated for a national theatrical release later this month. By Soderbergh's own admission, Haywire was written as a means to get Carano on to the silver screen. The cinematic bar for star vehicle action movies like the ones that first introduced audiences to Jean-Claude Van Damme and Stephen Seagal is set incredibly low. And, for what it's worth, Haywire gracefully leaps over it. There are even a few scenes in the movie that are unarguably great. But, Haywire also sports too much random silliness to call it a genuinely good movie."
– MMA Fighter Kaitlin Young: Women's MMA Is 10 Years Behind Men's (BleacherReport.com/MMA)
"Strikeforce has so many awesome people to compete against, but I think I would be hesitant because they have a tendency to sit on a lot of their fighters for a long time. Six months at a time even," she explained. "I'm having a lot of opportunities in getting fights lined up right now and really with Strikeforce and ProElite, when you see how much they pay some of the female fighters, it's at best what you can get at a local show. You can probably make more at a local show if you have decent ticket sales and sponsors."
Welcome to this week's edition of MMAterial Facts, where we feature articles from around the MMA community.
***
This week's MMAterial Facts: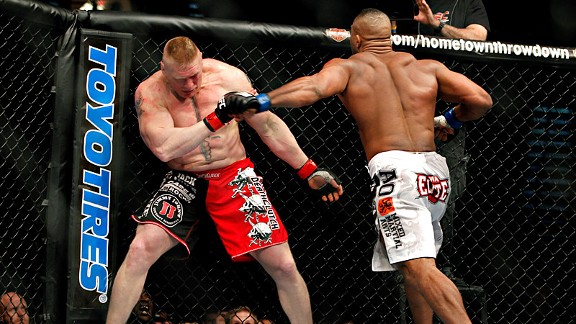 Courtesy of Ric Fogel for ESPN.com

– The Re-Education of 'King' Mo Lawal (MMA Fighting)
"Mo Lawal can admit it now: things didn't go the way he thought they would when he first walked though the doors of the American Kickboxing Academy in San Jose, Calif. in the spring of 2011. What happened was simple, really. He came in with all the swagger you'd expect from a man who goes by the moniker of "King" Mo, and then he found out the hard way that he wasn't the only MMA royalty on those mats.
…
Or as he put it: "I got beat up."
– Is the pro-wrestling influence in UFC unattractive to female sports fans? (Fight Opinion)
"MMA — like all sports — has to watch its image. The challenges in MMA are unique in the sense that we still have grumpy old sports editors and corporate sponsors who don't want to deal with the sport. But they're not unique in the sense that any sport can be stereotyped. Browse any sports site and read the comments about people who think the NBA is populated by "thugs." Look at the damage control baseball has had to do in the wake of its drug scandals and labor strife.
…
MMA has unique ties to pro wrestling, particularly in Japan but also in the USA with crossovers such as Brock Lesnar and Bobby Lashley. But MMA and wrestling are a volatile mix. Handle with care.."
– Joe Rogan: Retiring from MMA is incredibly difficult (MMA Mania)
"One of the things I think about sometimes with all the great fighters that I've seen come and go is just how difficult it must be for some of them to leave behind the incredible excitement and intensity of the world of being a professional fighter and then reset your life and find yourself something else to dedicate your time and interest to. Fighting is such an all-encompassing job. It really has to be, especially at the highest levels for you to be successful. The competition is so steep that to compete at the top of the sport of MMA you really need to be completely dedicated to training and improving all day every day. When it's time to move past that and into a new phase of life I would think that for some it must be incredibly difficult. And that's not even taking into consideration how difficult it is for some of these ultra competitive guys to know when it's time to step away."
– Brock Lesnar Announces His Retirement Following Loss To Overeem at UFC 141 (MMA Convert)
"I've had a really difficult couple of years with my disease, and I'm going to officially say tonight is the last time," Lesnar said. "This is the last time you'll see me in the octagon."
…
"I promised my wife and my kids if I won this fight, I would get a title shot, and that would be my last fight," Lesnar said. "But if I lost tonight … you've been great."
– Cesar Gracie responds to BJ Penn calling out Nick Diaz on Twitter (MiddleEasy)
"BJ Penn has apparently not come to terms with the beating he received at the hands of Nick Diaz."
…
"At some point it is up to those around you to protect you from yourself. To take you aside and let you know you are wrong and help save you from your folly. Unfortunately for Penn he is surrounded by "Yes Men" that are unwilling to do that. The outcome will be predictable, resulting in a fighter that will never push himself to the fullest and will always have excuses for his losses."
– Karo Parysan talks training Ronda Rousey,  Beating Nick Diaz, Tough Times & More (FightLine)
"Former UFC welterweight contender Karo Parisyan has been battling personal demons and waning motivation for the last few years, seeking to find the drive and strength of mind which once carried him near the top of the heap.
…
The Heat spoke with FightLine just before the holidays, discussing everything from his recent career slump to his UFC 49 scrap with Nick Diaz."
– The Rearview Mirror: Five MMA Trends We Hope To Have Left Behind In 2011 (Cage Potato)
"We're only a few hours into the new year, but unless your head hit the pillow just as the ball dropped, you've probably already carried some of your bad habits with you into 2012. We are creatures of habit, and change doesn't come naturally to us. If it did, we wouldn't make such a big production out of our 'New Year's Resolutions'. The sport of mixed martial arts and its fans are no different. Here's a quick look at some of the bad habits we've picked up and poor decisions we've made over the past 12-months. Let's hope we can leave them behind in yesteryear."
– Grappling with Issues – 1/6/11 (Five Ounces of Pain)
"What was your reaction to Brock Lesnar's retirement? Should any hope remain where Fedor Emelianenko signing with the UFC is concerned? Will "King Mo" fight in Strikeforce again after tomorrow night's bout against Lorenz Larkin? Is Jake Ellenberger more likely to earn a title-shot in 2012 than Johny Hendricks?"
– Matt Hughes Comes Under Fire for Controversial Hunting Pictures (5thRound)
"It has been a tough Twitter week for a couple of former UFC champions. BJ Penn has taken some heat for his harsh words for Nick Diaz on the blue-birded network, while Matt Hughes (Pictured left) has come under heavy fire for the controversial hunting pictures he recently posted on his account.
…
"Mark and me just got done here in Texas! Yes mine is bigger," Hughes wrote accompanied by the above photo."
– Cyborg Santos tested positive for Anabolic Steroids, suspended by CSAC (LowKick)
"The California State Athletic Commission (CSAC) has suspended the license of Mixed Martial Arts (MMA) fighter Cristiane Justino Santos, better known in MMA circles as Cris Cyborg, and has fined her $2,500 as the result of a positive test for a banned substance.
…
Santos' December 16, 2011 drug test came back positive for stanozolol metabolites. CSAC learned of the test results December 23, 2011 and suspended Santos's license, with the suspension applied retroactively to December 16, 2011. In accordance with Rule 368, the result of her last fight between Hiroko Yamanaka will be changed to a "No Decision"."
– Top 10 Best Fights From the UFC in 2011 (TheFightNerd)
"In a sport with the sheer variety of outcomes that MMA has, there's no specific formula for what makes a great fight. Instead, truly great matches are made when some or all of the elements of MMA come together in two fighters to make something that is both a highly competitive bout and a dramatic story told through action.
…
2011 served as a flagship year in the world's largest MMA organization when it came to great fights. To put a bow on this passing age, below are the top ten greatest fights in the UFC for 2011. See who earned the top spot!"
– Drunken UFC President Dana White Says Brock Lesnar Can Go to WWE (BleacherReport.com/MMA)
"Yes, he can go. He can go to the [WWE]," said White, who was exiting a night club out of Hollywood, California early this week, slightly more inebriated than usual.
…
"You might be drunker than I am right now," joked White to the reporter at hand."
Welcome to this week's edition of MMAterial Facts, where we feature articles from around the MMA community.
***
This week's MMAterial Facts:
Courtesy of Strikeforce

– AP Athlete of Year Voting Snub Shows How Far Mainstream — Not MMA — Has to Go (MMA Fighting)
"Earlier this week, The Associated Press, which provides sports news to millions of readers around the world, named its male and female athletes of the year for 2011. Not a single mixed martial artist was named on a single ballot. It's not as if non-traditional, non-stick & ball sports were not represented. Among those who received votes were sprinter Usain Bolt, surfer Kelly Slater and marathon swimmer Diana Nyad. "
– Randy Couture: Yeah, Title IX has really crippled wrestling programs badly (Fight Opinion)
"There are two groups of people who would like to see some very different visions for the future of fighting. One is hoping for a renaissance of Catch-as-Catch-Can… and the other has a more futuristic view of where the fight business should be heading.
…
First, the fine group of humans who are interested in catch wrestling. As you can see up above, I highly recommend Jake Shannon's book on Scientific Wrestling. He and many others are doing their best to emphasize the importance of Catch on the sport of MMA. Randy Couture did an interview with Eddie Goldman last Friday talking about this very issue in relation to his new book called The Last Round w/ Sara Levin (who worked for USA Wrestling). Book ordering/background information can be found on Amazon & Facebook.
– Interview with debuting UFC flyweight Ian McCall (MMA Mania)
"The self-destructiveness, how have you been able to overcome that?
…
Ian McCall: It seems like jail and rehab will teach you how to do it. It's just the kind of thing where you grow out of it. I just finally one day was like, "Okay, I've had enough. I've had enough fun. I've partied enough in my life. This is kind of over with," and from there, that was before me and my wife got together and she got pregnant and it was the kind of thing where I did it on my own and we and my wife reconnected because we'd dated on and off for five years and one day we started hanging out again and surprise, now I've got two dogs and a baby and a wife (laughs)."
– Chael Sonnen vs. Michael Lansberg II Fallout: Sonnen Is 'Done' with Anderson Silva (MMA Convert)
"The bottom line is, I'm done with the guy," the 34-year-old Sonnen said in an excerpt released prior to the show by TSN. "He and I have no business. . . . He's so far over the hill and past his prime it's not worth talking about.
…
"I'm going to become the No. 1 contender on January 28th, but despite what you may think, I am not going to use that voucher to fight Anderson Silva. I'll be looking at Dos Santos, Jones and possibly St-Pierre.
…
"I will take that voucher to (UFC president) Dana White and I will pick one of those guys. My time with Anderson is done."
– Alistair Oveeem is in UFC Undisputed 3 and you have less than four weeks to unlock him (MiddleEasy)
"Ubereem could also come with me to Venice Beach sometime next summer and we can take our shirts off and toss a frisbee on the beach like heterosexual men. Ronda Rousey could judge us on our frisbee throwing techniques and at the end of the day, we could grub down on all the horse meat tacos we want. That's my only New Year's Resolution. If that doesn't go down next year, then at least I'll know that I've unlocked Alistair Overeem in UFC Undisputed 3 simply by liking THQ's official UFC Undisputed Facebook page — and you can too if you check out the very limited promotion. We've even included a video of the first footage of Ubereem within the game for your viewing pleasures.."
– Jason 'Mayhem' Miller Staying Positive And Pushing Onward (FightLine)
"Dana White was right," Miller wrote in a recent blog post on his personal website. "He made some disparaging comments about my performance, and I agree with him. I displayed the worst of everything that night in the Octagon. I was tense in round one and I locked up after that. I didn't perform to my potential, and I take full responsibility for it. That wasn't a UFC caliber performance, and I'm not happy about it- I won't, however, write a worthless diatribe on myself, because that is not constructive. I elect instead to take this misstep and make something positive out of it."
– MMA Video Tribute: The 25 Most Brutal Finishes of 2011 (Cage Potato)
"With a little help from the Potato Nation, we spent the last couple days gathering videos of the nastiest, ugliest, most-painful looking knockouts and submissions from this year. Finding 25 of them was the easy part. (Damn, MMA fighters. You seemed especially angry this year. Problems at home?) Putting them in order was a little more challenging. Obviously, Frank Mir snapping Nogueira's arm at UFC 140 was the people's choice for #1. But how do you rank a head-kick knockout against a spinning-backfist knockout, when they both leave their victims zombie'd on the mat with their eyes open and their arms in the air?"
– Gift Giving: Shopping for Fighters (Five Ounces of Pain)
"It's the holiday season and after fighting off crazed moms who just have to get that last bottle of Justin Bieber shampoo, I finally finished my MMA Christmas shopping. I couldn't find a gift for everyone but I think I did well and hopefully all the fighters and MMA personalities appreciate all the thought and money I put into their gifts.
…
Lets have a look under the tree and see what we have, shall we?"
– Urijah Faber Shaves Head in Support of Sister (Video) (5thRound)
"Exactly four Fridays ago, Urijah Faber's (Pictured) 19-year-old sister, Michaella Tastad, was involved in a horrific car accident. It was the morning after she had celebrated Thanksgiving dinner with her family.
…
Faber's sister suffered a collapsed lung, spleen damage and received life-threatening head trauma that forced physicians to medically induce a coma at Sutter Roseville Medical Center in Sacramento, California."
– Satoshi Ishii trains at Black House for the fight with Fedor Emelianenko (LowKick)
"In less than two weeks, 2008 Beijing Olympic Gold Medalist in Judo, Satoshi Ishii, will step inside the ring at the Saitama Super Arena in Saitama, Japan, for the biggest fight of his young Mixed Martial Arts career, against "The Last Emperor" Fedor Emelianenko. Ishii will be the eighth Japanese fighter to square off against Emelianenko, looking to become the first to defeat him.
…
The fight will headline the traditionally stacked DREAM's New Year's Eve fight card (Fight For Japan: Genki Desu Ka Omisoka 2011), which will feature blockbuster JMMA names such as Shinya Aoki, Katsunori Kikuno, Satoru Kitaoka, Hiroyuki Takaya, Tatsuya Kawajiri, and many others."
– Top 10 Biggest MMA Upsets in 2011 (TheFightNerd)
"Everyone loves to see the underdog win, especially because they never expect it. In MMA, unpredictability is a constant variable that truly makes it one of the most exciting sports out there. Sometimes, it's not even the underdog, but rather the fighter that most thought had zero chance at all to win, let alone survive the fight.
…
As this year wraps up, it's time to look back and see who were the biggest underdogs that shattered expectations and, even if just for one night, made a name for themselves and proved everyone wrong. This is not a list of amazing comebacks in a fight, rather the matches that should have gone one way, and ended up entirely different. So, let's jump into the top ten biggest MMA upsets from 2011!"
– The 2011 Last-Minute Gift List for Your MMA Fan (BleacherReport.com/MMA)
"This list is the top 10 gifts for the 2011 holiday season!
…
Do you have a special MMA fan in you life? Are you an MMA fan that is just looking for an excuse to buy more MMA stuff? Well, for the next 10 items, please think of yourself in the third person and shop as if you were shopping for someone else!"
Welcome to this week's edition of MMAterial Facts, where we feature articles from around the MMA community.
***
This week's MMAterial Facts:

Courtesy of MMA Fighting and Esther Lin

– UFC Officially Announces Return to Australia (MMA Fighting)
"The organization officially announced its return to Sydney, Australia, Wednesday night. UFC Sydney, as it's being called, will take place on Saturday, March 3, at the Allphones Arena, formerly Acer Arena, in Sydney.
…
The event, headlined by Thiago Alves vs. Martin Kampmann, will air on FX in the United States on Friday, March 2, due to the time difference in Australia. "
– In ridiculous NSAC hearing, Alistair Overeem is granted a conditional license (Fight Opinion)
"Alistair Overeem participated at today's NSAC meeting via phone. Keith Kizer stated that out-of-competition drug testing for both Brock Lesnar & Alistair Overeem was established on November 17th. Overeem's drug test did not occur, as his camp replied back on November 21st (he left for Holland). Brock's drug test was done at a hospital. Overeem ended up taking a blood test on November 23rd. It was not the test NSAC was looking for but the blood test came back clean. Overeem ended up taking the test the NSAC wanted on December 7th and the results haven't come back yet. Overeem was quizzed about why he needed to go to Germany for testing instead of doing the testing in Holland. At this point, the commission put Overeem under oath during his testimony.
…
(Keith Kizer believes urine tests are more accurate than blood tests for doping.)"
– Interview with undefeated one-armed fighter Nick Newell (MMA Mania)
"I don't have the same reach-around for a grip so when I actually do get a grip on you, it's that much tighter but it is harder for me to get it because I have to reach further. I have to commit more and I think me committing when I fight, I take a lot of risks and it's been paying off for me because I'm 6-0 as a pro with six first round stoppages and going back to my amateur fights, I'm on an eight fight winning streak all in the first round."
– Junie Browning Claims The Thai Mafia Is After Him (MMA Convert)
"Im officially the biggest American patriot there is now. These other primitive countries are all about money, mafia and corrupt law enforcement. Regardless what you believe I never touched a female in theses events that occurred and my girlfriend was there from start to finish to vouch. Hitting Thai women was an excuse for them to demonize me and get some baht out of me. You all don't understand with my name, people will use it against me. I acted like an idiot on a reality show for publicity so they are using that against me. Im sorry and I care about people more than you thank and I appreciate all the support from the intelligent people that understand that these primitive countries are trying to kill me ( Literally ) . I need help BAD! please call the US Embassy in my regards. Thank you very much everyone."
– Whoa Sean Sherk was ambushed by machine gun wielding UK police (MiddleEasy)
"As he was being ferried into the area, the car he was travelling in was stopped by a roadblock and armed police swooped on the vehicle. Police had the vehicle on their database as being linked to a local man who they believe to be a key gangland figure. Sherk thought the car was being subjected to a routine stop until it turned out to involve several carloads of police officers carrying automatic weapons, including Hechler and Koch MP5 machine guns – the UK police do not normally carry guns. Having remained sat in his passenger seat because he had not understood an instruction to exit the vehicle, Sherk was dragged out by tense officers. They cuffed his hands behind his back and pulled him away where he was none too gently searched before being dumped on the floor. When a search of the car had been conducted – the officers were looking for firearms – Sherk and his driver were allowed on their way.
"
– Sonnen And Muñoz Will Suspend Friendship For The Sake Of Competition (FightLine)
"This is competition between Mark Munoz and me," Sonnen said. "We competed before, we will compete again. And when it is done, it will be one more in the win column, one more trophy above the mantle, and one more for the bad guy."
…
Muñoz echoes his sentiment, saying that whatever friendship he and Sonnen have maintained since their college days will be left at the cage door.
…
"Chael and I are friends and will remain friends long after this fight," said Muñoz. "But make no mistake, when that cage door closes we will not hold back. We will show the world why we are the best at what we do.""
– Exclusive: Brittney Palmer Talks UFC Return, Her Fans and Fighter Twitter Beefs (Cage Potato)
"The UFC Octagon Girl, who will return from a brief hiatus from the sport at UFC 140 Saturday night, spoke to us about a variety of topics including art school, her fans, fighter Twitter beefs and how she felt about winning the "2011 CagePotato Hottest Women in MMA Grand Prix"
– Heavyweight Gabriel Gonzaga returning to the Octagon at UFC 142 (Five Ounces of Pain)
"Former UFC title-contender Gabriel Gonzaga has won his way back into the promotion after being announced as an injury replacement for Rob Broughton. Gonzaga will face Ednaldo Oliveira at UFC 142: Aldo vs. Mendes on January 14 from the HSBC Arena in Rio de Janeiro, Brazil. In his last bout, Gonzaga (12-6) downed Parker Porter via submission in the third round."
– Brett Rogers Denied Visa, Fight with Tim Sylvia Off Dream's NYE Card (5thRound)
"According to Heavy.com, Brett Rogers (Pictured) has been denied a visa and won't be allowed to enter Japan to face Tim Sylvia in Dream's end of the year extravaganza.
…
Because the former Strikeforce heavyweight was turned away so close to showtime, Sylvia has also been removed from the star-studded card.
…
Rogers was released from a Minnesota prison on Tuesday after serving roughly two weeks behind bars for beating his wife at their home this past June. "
– Ovince St. Preux: I'm not scared of going toe-to-toe with Gegard Mousasi (LowKick)
"It's definitely safe to say that Mousasi is the biggest name I fought in my career," said St. Preux. "Everyone knows he's one of the Top 10 guys out there. He's a great challenge for me as a fighter. He will try to impose his will with striking, but he's one of those guys who also has a very good ground game too. With him I have to be prepared for a war in both stand up and on the ground."
…
According to St. Preux, 31-3-2 "Dreamcatcher" has every required attribute to live up to the expectations of being his toughest test to date. However, OSP promises not to give Mousasi any extra credit inside the cage:
…
"I've been in some wars and what not, but I learned that there are also veterans out there who will give you a hell of a fight," admitted Ovince St. Preux, who will mark his sixth fight under the Strikeforce banner against Mousasi. "I fought Benji Radach and went to distance with him. It was a very tough fight. Mousasi comes forward and throws a lot. With this being said, I'm going out there to show him I'm not scared of anyone."
– Check out the original call for fighters UFC ad from 1993! (TheFightNerd)
"Two months prior to that ad, W.O.W. and SEG put out an application to discover fighters to compete in their event, and here is that ad! Stuffed all the way in the back of the magazine on the bottom left corner of page 69, this quarter-page ad summons the eight "toughest punchers, kickers and grapplers in the world" to compete in the "full contact, no holds barred" event."
– Brock Lesnar Facing Hunting Related Charges from 2010 Visit to Alberta (BleacherReport.com/MMA)
"Lesnar and another man, according to Sportsnet.ca, were cited for offenses related to the Alberta Fish and Wildlife Act.
…
The offenses that the duo were charged with were the alleged improper affixation of tags, spoilage of skin and edible flesh, and possession of a controlled animal.
…
In short, according to twincities.com, the pair failed to tag their game, left a mule deer carcass to rot and were in illegal possession of a deer. The maximum penalty for each charge is $50,000 and a year in prison."
Welcome to this week's edition of MMAterial Facts, where we feature articles from around the MMA community.
***
This week's MMAterial Facts:
– The Ultimate Fighter History in Review: Stats, Facts and Figures (MMA Fighting)
"As a superstar production unit, the show has had mixed results. It began with a splash in 2005, launching the careers of Forrest Griffin, Kenny Florian, Josh Koscheck and others, but in time, competition for talent from other organizations made it more difficult to land prime talent. That's led to criticism from some who believe it no longer serves a real purpose as a feeder.
…
That debate is worth an exploration, though it's ultimately moot as the franchise will continue in a newly revamped style on its new cable home on FX in 2012. But for now, let's take a look at the first 13 seasons of TUF in stats, facts and figures (season 14 is excluded because its competitors have yet to officially fight in the octagon)."
– Would a confidential drug testing program help out UFC fighters? (Fight Opinion)
""I read all the blog sites and everybody's all caught up, is it a performance enhancer? It's a banned substance, it's not a performance-enhancing substance list, it's a banned substance list. And this is a place where sports in general and MMA in specific are trying to look out for the well being of the fighters because getting on this type of medication, as anybody will tell you, is very, very, very hard to get off. I don't call these types of medications, the opiates, the narcotics, the Dilaudids, performance enhancers. I call them performance enablers."
…
He's exactly right. Semi-retired wrestler Lance Storm talks about how dangerous taking painkillers can be because when you are injured and feeling the pain, you're body is telling you to stop and you're popping a pill to basically continue on without feeling the natural pain you're supposed to. The end result is more physical damage to your body, including your organs should you take one too many pills."
– Interview with TUF 13 winner Tony Ferguson (MMA Mania)
"When I fought Aaron Riley, he shook my hand in the back, you might have saw it but we were in the back, his jaw was broken and he shook my hand and he looked at me and I finally got it. It was a passing of the torch, you know? It was like, "Okay, you beat me, now do something with it," and that's what I want to do."
– Pic: BJ Penn Was Mobbed For Autographs In The Philippines Today (MMA Convert)
"For quite awhile the UFC had targeted the Philippines for their first international TUF season until they found out first hand just how hot the Brazil market was. And it's not hard to see why considering the massive turnouts for public appearances by Chuck Liddell, Brandon Vera, Georges St. Pierre and now BJ Penn."
– Ryan Jimmo Interview: Sequel to the worst movie ever made and his move to the UFC (MiddleEasy)
"Did it take you longer than you expected to get to the UFC?  Yes…and no. I think I would be able to hold my own and compete there a while ago even if that's an untested theory. My manager and I had a plan. We didn't want to go in too school. We wanted to make sure my skills were in place, my wrestling was in place. Now my wrestling is fantastic, I'm out wrestling wrestlers. I wanted to make sure my stand up was correct and my confidence was good enough. I wanted to make sure my life was in the right place and financially I was OK. We wanted to take all of these steps and make sure all of our ducks are in a row so we don't go up there like some guys that have no wrestling or Jiu Jitsu, that are so happy to be in the UFC, but make a quick exit. That's not what I envision for myself. I'm a complete fighter and I'm going to make my mark there."
– Video: Jason "Mayhem" Miller's Fight Journal Part 2 (FightLine)
"MMAFighting's E. Casey Leydon spent some time with Mayhem as he gears up to face Bisping this weekend, producing a Fight Journal video to get an inside look at Mayhem's life leading up to the fight.
…
We posted the first part of the video earlier this week, you can check out both parts below."
– CagePotato Tribute: The Failure to Intimidate (Cage Potato)
"Hoping to gain the mental edge, Tito channeled his inner high school bully and made a lunge toward Liddell. While such tactics work wonders on members of the glee club, the mere suggestion of physical contact hardy registers a blink from dudes who get punched in the face on the regular. The Iceman was sick of Tito's tough guy routine and primed to dole out the beating he'd dodged for so many years. He'd leave Ortiz crumpled in the fetal position in just over one round the following evening. Undaunted by his failure to intimidate, Ortiz continued to employ the same psyche-out strategy throughout his career with mixed results. Mental giant Ken Shamrock took the bait with hilarious results, while Ryan Bader could barely muster up a grin in response."
– Grappling with Issues – 12/2/11 (Five Ounces of Pain)
"Would you have cut Chris Leben after his latest run-in with drug/alcohol abuse?
…
Conlan: … The reality is the UFC has some culpability in the situation because they've created an environment where things that would result in most folks being fired don't have long-term repercussions. They need to be cognizant of the perception it creates, the responsibility they have as his employer, and understand the company/sport could suffer a major blow to their reputation if Leben slips up again to the point someone's life is dramatically affected whether his own, a friend/family member, or even an innocent victim."
– 2011 World MMA Award Winners (5thRound)
"Fighters Only's 2011 World MMA Awards took place Wednesday night at The Pearl inside the Palms Casino Resort in Las Vegas, Nevada. The who's who of the mixed martial arts world, except yours truly, attended the fancy black-tie ceremony."
– TUF 14: Bisping vs. Miller Weigh-In Video and Results (LowKick)
"The event is co -headlined by the TUF 14 Featherweight Finale bout between Dennis Bermudez and Diego Brandao, while T.J. Dillashaw takes on John Dodson in the TUF 14 Bantamweight Finale bout. The main card will be completed with Tony Ferguson vs. Yves Edwards, and Johnny Bedford vs. Louis Gaudinot."
– Bellator FC 59 Results & Exclusive Photo Gallery (TheFightNerd)
"Bellator Fighting Championships returned to Atlantic City, N.J. to end its historic fifth season LIVE on MTV2 and in HD on EPIX from Caesars Atlantic City. While two tournament finals were scheduled for Bellator 59, only one Tournament Championship was decided as Eduardo Dantas collected an impressive win over Alexis Vila in the Bantamweight Finals. The Heavyweight Finals was declared a no contest, as Thiago Santos delivered what was ruled an accidental illegal blow to the groin of Eric Prindle, which eventually halted the fight and was declared a no contest."
– Bisping vs. Miller, TUF 14 Finale: Who Has the Most To Lose? (BleacherReport.com/MMA)
"Bisping is one of the UFC's most marketable fighters thanks to his international appeal. He is also one of the company's most hated fighters because of his antics both in and out of the Octagon.
…
Many fighters in MMA talk trash. But Bisping has gone beyond that, being disrespectful to fans and fighters alike.
…
It's easy for Bisping to talk trash. But if he really wants to shut up his doubters, he will have to get wins over big-name opponents.
…
If he loses against Miller, it will show that he may never be a top contender.  "
Welcome to this week's edition of MMAterial Facts, where we feature articles from around the MMA community.
***
This week's MMAterial Facts:

Courtesy of Bellator Fighting Championships (Fight of the Year Candidate)

– Fowlkes: The Indestructible Daniel Cormier (MMA Fighting)
"The first kid begins to cry less than an hour into practice. Everyone can see it coming. That trembling lower lip, that frustrated stomp of the feet. When the tears finally start, twisting his face into a little ball of anguish, no one seems particularly surprised.
…
"No crying today," says his coach, Daniel Cormier. Is there even a hint of sympathy in his voice? There is not. Neither is there anger nor impatience. There is only a sense that this is what we are doing because this is what must be done, and crying never won a single wrestling match."
– When Fedor met Satoshi Ishii on NYE; card will not air on broadcast TV (Fight Opinion)
"The scuttlebutt coming out of Fedor's decision win over Jeff Monson in Russia is that he will fight on the Inoki NYE card at Saitama Super Arena against Inoki-managed/owned-in-Japan fighter Satoshi Ishii. On paper, the fight makes sense for both parties. Fedor sees it as a chance to get a win, as ugly as it may be, over a relatively green fighter and an easy payday plus TV rights in Russia. Inoki's camp views it as a chance to get Fedor back in Japan (where he's the most valued, still) and that Ishii can somehow make the match ugly enough to get a decision win as long as Fedor doesn't tag him early and knock his ass out."
– Redeeming Filipino: Phillipe Nover Bellator 59 exclusive interview (MMA Mania)
"I'm not the next Anderson Silva, I'm not the next Georges St. Pierre. I have my own type of style and I like to take things from different people. I like to take different movements and styles and stuff but I'm not trying to be the next Georges. I'm not trying to be the next Anderson, I'm the next Phillipe Nover and that's what I'm gonna live up to."
– Rampage Jackson vs. Ryan Bader Booked For UFC 144 In Japan (MMA Convert)
"So it looks like Rampage Jackson is going to fight in Japan after all.
…
But it won't be against Shogun Rua or even Stephan Bonnar. Instead, Rampage will take on Ryan Bader at UFC 144. Lorenzo Fertitta confirmed the news with ESPN.com."
– Jens Pulver's 2011 Videogame Holiday Buyer's Guide (MiddleEasy)
"The holiday season is upon us and with the jingling bells, festive lights and awkward family gatherings a veritable avalanche of amazing games are at our gamepad worn fingertips. With many choices comes great responsibility, so what games will you spend your hard earned holiday windfalls of cash on? We recruited Jens Pulver to help you answer this very question. After hours of contemplation and debate, Jens and MiddleEasy compiled the following items that should be at the top of every gamers list and at the bottom of every tree. This is Jens Pulver's Holiday Buying Guide-Only at MiddleEasy.com."
– Dana White: The UFC Is Going On With Or Without Me (FightLine)
"This is McDonald's man. This thing goes on forever without me," White asserted. "Is it different without me? Yeah, maybe it's a little different, but they don't need me, man. This thing's goin' on without me or with me."
– MMA Black Friday: 7 Things That Money Can't Buy (Cage Potato)
"From revolutionizing the MMA landscape with a kick the way the Miami Dolphins did with a Wildcat Offense a few years ago to several strangely fascinating videos, Anderson Silva has provided more entertainment than a Chael Sonnen Says F*ck Canada or at Least This Reporter Who Lives There" Chael Sonnen interview. These are memories that will last a lifetime, or three if you're Cheick Kongo."
– Grappling with Issues – 11/25/11 (Five Ounces of Pain)
"I'm torn. On one hand, Rua vs. Henderson was unquestionably excellent – a "Fight of the Decade" type affair. On the other, it would be nearly impossible to top from an entertainment standpoint. To expect a repeat performance would akin to telling Leonardo Da Vinci to paint another Mona Lisa rather than enjoying the masterpiece he'd already put on canvas. Like Lambert I suppose I'll say I'm open to the idea if divisional contendership dictates it but otherwise I'm content with having seen one of the greatest fights in MMA history, letting each man move on to new challenges (especially with Henderson likely only having a few more years in the sport)."
– Dan Henderson Doing His Part for Thanksgiving and Christmas (5thRound)
"Thanks to Dan Henderson and the generous fans that purchased the 'Hendo UFC 139 Walkout Tee' he wore this past Saturday in his epic battle against Mauricio "Shogun" Rua, almost 8,000 people at the San Diego Rescue Mission and the Denver Rescue Mission will be able to enjoy Thanksgiving dinner with their loved ones. "
– Vadim Finkelstein: We will offer the UFC a fight between Velasquez and Fedor (LowKick)
"We are determined to move forward, and would like to offer the UFC a fight between Cain Velasquez and Fedor Emelianenko. M-1 Global would take a full responsibility of organizing the fight sometime during 2012 in Moscow, Russia. I can guarantee Dana White great revenue from this fight, and a record-breaking attendance. M-1 Global is ready for dialogue, and would be happy to consider an option of organizing such tournament with combined efforts. I will make an offer to "my best friend" pretty soon, so we'll see what he has to say."
– Michael Chandler discusses epic win over Eddie Alvarez at Bellator 58 (TheFightNerd)
"Fight Nerd correspondent Rodolfo Roman got to speak with newly crowned Bellator lightweight champion Michael Chandler after his four round war with Eddie Alvarez at Bellator 58 last Saturday. Chandler discusses winning his first national belt, preparing for Alvarez, and his future as champion. The fight had obviously taken a heavy toll on Chandler as, during the interview, one of his facial wounds reopened."
– Where Does Dan Henderson Fall on the List of All-Time MMA Greats? (BleacherReport.com/MMA)
"There is no one to be ashamed about on that list. He also holds victories over Misaki and Wanderlei Silva. That means of his eight losses, there are only five fighters he hasn't redeemed himself against.
…
Henderson is currently on a four-fight win streak, including winning Strikeforce's light heavyweight championship and stopping Fedor Emelianenko. Now Henderson's future is up in the air. "
Welcome to this week's edition of MMAterial Facts, where we feature articles from around the MMA community.
***
This week's MMAterial Facts:

Photo: Esther Lin, MMA Fighting
– Fowlkes: How White's Love of Boxing Led Us Here (MMA Fighting)
"White: It was [Fox Sports Media Group Chairman] David Hill. I went in and said, listen, USA's Tuesday Night Fights and ABC's Wide World of Sports, we all used to watch those, all of us who were big boxing fans. I didn't miss Tuesday Night Fights ever. Every Tuesday night I was on the couch. But when I was younger, I remember my uncles all getting around the TV and watching Wide World of Sports. When we told them the fight was going to be the heavyweight championship, they said, 'Do that, just do the one fight, the heavyweight championship.' It makes sense. That's really the way it went down. It was David Hill's call."
– Protest & presser at UFC HQ scheduled for Saturday at 11 AM (Fight Opinion)
"On Saturday, Nevada survivors of sexual assault, concerned parents and Las Vegas casino workers will gather outside UFC's headquarters at 2960 West Sahara Avenue. They are demanding that advertisers and FOX Sports "drop the UFC" until the UFC makes it evident to the public that it no longer tolerates violent, sexist and homophobic language, and adopts and enforces a code of ethical conduct similar to those that exist in other professional sports."
– Interview with Pablo Garza (MMA Mania)
"With the way I finished my last two fights, people want to think that I'm going to go out there and do something insanely crazy and all that stuff. I'm just gonna go out there and try to win the fight, you know what I mean? If I do something spectacular in the process, that's bonus points but I don't purposely go out there and think like, "Alright, maybe this time I'll try like a back flip or something."
– Frankie Edgar Will Likely Defend UFC LW Title Against Henderson-Guida Winner In Japan (MMA Convert)
"Two respected MMA media outlets are reporting that Frankie Edgar will cross the Pacific to defend his title next February when the UFC returns to Japan. And word is UFC on FOX 1′s Ben Henderson vs. Clay Guida will likely determine his opponent."
– Here's the tremendous UFC on FOX weigh-in that you need to see (MiddleEasy)
"By this time tomorrow, we either will have a new heavyweight champion or can solidify that Fedor has been dethroned as the greatest heavyweight of all time. One of those scenarios will 100% take place within 24-hours, and that should fill all of you with incredible anxiety. I've been so tensed throughout the day thinking about this fight that I've only consumed two things since yesterday, and both of those things begins in 'vienna' and ends in 'sausages."
– Pros Favoring Velasquez Heading Into 'UFC On Fox 1' (FightLine)
"When it was initially announced that Cain Velasquez would make the first defense of his heavyweight belt against Junior dos Santos, the early betting lines favored dos Santos to win, as the memory of his thrashing of Shane Carwin was still fresh in everyone's mind. With time though, public opinion in general shifted in Velasquez's favor, with the majority of pundits, fans and fighters alike picking Velasquez to beat dos Santos.
…
FightHubTV's Marcos Villegas recently polled a few California-stationed MMA fighters over who they see going home with the belt tomorrow night and their opinions reflected that majority. "
– Junior Dos Santos and the Five Most Impressive UFC Contender Runs in Recent History (Cage Potato)
"You see, unbeaten runs aren't common in the UFC. This isn't the world of boxing, where fighters are fed 20 journeymen before they get thrown to the lions. And that's precisely why the MMA community purrs over such immaculate resumes. So which UFC fighters built up the most impressive win streaks en route to their first title shot? These five come to mind…"
– UFC on FOX Breakdown: The Main Event (Five Ounces of Pain)
"Its status as MMA's weakest and at times, most embarrassing division is well-earned. Its oxygen consumption equals that of every other weight class combined, and cardio is often thrown out the window before Bruce Buffer is done with his fighter introductions. However, every now and then, the heavyweight division offers a bout that captures the imagination of fight fans like no other."
– Celebrities for "UFC on FOX" Red Carpet Event Announced (5thRound)
"FOX promised to host a star-studded red carpet extravaganza to kick off their MMA debut, and they weren't kidding. This Saturday starting at 4PM PT, FUEL TV's Nicole Dabeau will greet actors, athletes and other notables as they enter the Honda Center in Anaheim, California to watch Cain Velasquez defend his UFC heavyweight crown against Junior dos Santos."
– Interview with UFC on Fox co-headliner Clay Guida (LowKick)
"Ben Henderson is pretty much the same (as Anthony Petts), great on the feet and solid on ground. I won't go into detail, but I want to finish this fight. To me, a big win earns a title shot. I want to win big so that there is no question about my title shot. Everyone hyped Melvin Guillard as the obvious next shot, but then he lost in the first-round to Joe (Lauzon). So, I figure with a big win, then it's my turn for that title shot."
…
"It's amazing really. To come from a wrestling background that doesn't really have a professional circuit, other then the Olympics or the WWE, it is amazing to think that now I'm on PPV and will be on Fox. It's just unreal and awesome.  Plus, I meet so many people that just want a picture or to say hello – the fans are usually really cool. I feel that I have been a great ambassador for the UFC, and I hope to continue that trend."
– UFC 1-75 summed up in Tweets (TheFightNerd)
"Scrawny Brazilian beats all with complex hugging and squeezing moves,
including boxer with one glove and Ken Shamrock. -UFC 1 in tweet form
…
Pat Smith kills a ninja, but is scared of Royce Gracie being on top.
-UFC 2 in tweet form
…
"If you're coming on, come on!" says Canadian with epic mullet. -UFC 3
in tweet form"
– Dana White: UFC on FOX a '"Dream Come True"(BleacherReport.com/MMA)
"Lorenzo [Fertitta] and I sat down and we talked about a lot of different fights we can make. This one made sense," White says. "Not only with the heavyweight championship of the world, but the fight between these two athletes. These guys are monsters, man. When have you seen either of these guys in a boring fight that was just horrible? The answer is never."
Welcome to this week's edition of MMAterial Facts, where we feature articles from around the MMA community.
***
This week's MMAterial Facts:
– UFC Hopes for Two Shows in UK in 2012 (MMA Fighting)
"Since making the UK market a priority a few years ago, the UFC visited the country eight times between 2007 and 2010. And even though shows there have tended to do big business, 2011 nearly came and went without a return, until the promotion managed to wedge one into the final stretches of a hectic schedule."
– Japan 2011: The more things change, the more they stay the same (Fight Opinion)
"What's not incredible or shocking is that there will be yet another attempted New Year's Eve event at Saitama Super Arena this year, promoted by Real Entertainment. The former employees of PRIDE will work in conjunction with Antonio Inoki as the front man, just like he was last year. The show title will be called "Genki desu ka!" which is Inoki's trademark slogan. It's a sweetheart deal for him. The discussion is that there will be 20 matches on the card and that IGF aces Peter Aerts & Jerome Le Banner will be on the card. There is some hope of getting the telecast on broadcast television, but nobody is sure how things will play out given that it's already November and it's short time for a TV network to get an ad agency working at the last-second to make the numbers work."
– Interview with UFC 138 main eventer Mark Munoz (MMA Mania)
"I'll take a submission victory or a knockout. I will take that for sure. I don't see this fight going five rounds at all. I think we'll see a guys that come in there swinging and there's just gonna be fireworks happening. We fight to finish and not just score points so I don't see this fight going to the end of the fifth round at all."
– UFC 138 Preview – 'Unloved and Unwanted in the UK' Edition (MMA Convert)
"Part of what makes this UFC a "throwaway" is the fact that in the grand scheme of things, none of the bouts matter. Yet what should make people tune in is the fact that Leben and Munoz will be more than ready to leave it all in the cage."
– Preview of UFC Undisputed 3 (MiddleEasy)
"First off Lenne Hardt is in the game and it's awesome. The PRIDE production values are ridiculously spot on. You will have confetti swirling around you as you celebrate victory (or wallow in defeat) in the Saitima Super Arena. PRIDE's home is represented along with a host of other real life locations (like Mandalay and the other usual suspects). Everything about UFC 3 screams 'more'. More licensed referees, more weight classes, more fighters, hell, more MMA organizations. You can tell that the extra time they took paid off in the presentation department, I felt like in was 2005 all over again. I must note that Layzie and I never left PRIDE mode and after a few scans of the room (although influenced by the soccer kick drink) I think literally every monitor had a PRIDE match going down. What can I say, the media loves it when one person kicks another person in the head."
– UFC UK Vice President: We're Committed To The UK Market (FightLine)
"I think that in a perfect world we would be here more times a year, but as you know – you've heard our mantra: we're trying to get everywhere. There's a lot of pressure to bring the event everywhere around the world. It was a struggle just getting this event into the calendar. You may remember back in the day, there was a lot of discussion about whether we were coming back at all. We were able to, through the hard work of the office here and with the arena here, make this event happen. There's actually an event in the arena the night before that we're actually setting up, so it's not ideal for us but we were committed to coming back to the market."
– Dan Severn Still Wants Coleman and Shamrock, Will Likely Retire Next Year (Cage Potato)
"I want specific fights right now. I've had some verbal offers but haven't had the opportunity to bring some of these matches to life. Two particular matches I'm still interested are ones with Mark Coleman and Ken Shamrock. Realistically, I think that 2012 will be my final year as an MMA competitor. So whatever gets done gets done; whatever doesn't, I'll have to learn to live with I guess."
– "Big" John McCarthy likely to referee UFC on FOX main event (Five Ounces of Pain)
"Big" John McCarthy is the most famous referee in MMA, he's been a part of the UFC organization since the beginning, and he'll be in the octagon when the company makes their network TV debut on November 12. CSAC Executive Officer George Dodd informed the UFC that, "there is a 99% chance" that McCarthy will be the referee for the UFC on FOX main event between Cain Velasquez and Junior dos Santos."
– M-1 Global: Fedor vs. Monson" Comes With $30 Pay-Per-View Price Tag (5thRound)
"This was a big decision for me, I took my time looking for the right management and I found it in Glenn Robinson and Authentic Sports Management," said Shields. "ASM feels like a family environment. It has good people who are working hard, and he seems to really care about the fighters."
– UFC Undisputed 3 photo coverage (LowKick)
"Liddell and Rampage were not the only fighters to play UFC Undisputed 3. Chad Mendes, Anthony Pettis, Erik Koch, and the People's Champion Chael P. Sonnen all tested their gaming skills, as the rumor says Chael Sonnen played Anderson Silva, while Erik Koch played Chael Sonnen in their own version of the upcoming (or not) "Biggest Rematch in the UFC History"."
– Bas Rutten on his new show "Punk Payback" and self-defense (TheFightNerd)
"The Fight Nerd spoke with Bas Rutten, whose new show on FUEL TV, "Punk Payback" debuts tonight, which is a show that has the former UFC Heavyweight Champ and King of Pancrase breaking down real-life self-defense situations caught on tape, and showing you at home what to do if you were in that situation (think of his "Lethal Street-Fighting" DVD, but more!). We discussed the show at length, explaining what the concept is, how much of the self-defense that Bas shows is improv or scripted (along with the craziness that he says), and what is ahead in Bas' acting career. We also discuss the real-life implications of some of these scenarios, and what is legal to do if you need to defend yourself."
– The 100 Greatest Moments in UFC History (BleacherReport.com/MMA)
"At this point, it's safe to say the UFC's popularity is snowballing. Even that may be a mild analogy. With the UFC and its fighters finding newer and wider avenues into the mainstream seemingly every day, MMA's premier promotion is more like a magnet in a river of paper clips, or a molten ball of caramel careening down a mountain of chopped walnuts. You get the idea. These are heady times for the UFC."