Bud Light Canada unveiled a video on twitter featuring Georges St Pierre which features the former UFC champ in a faux fight simulation of UFC 217.  The video pokes fun at GSP's opponent Michael Bisping.
👊👊💥 @GeorgesStPierre is back! See what it's like to take him on as he gets ready to be champion again at #UFC217. #GSPReturns pic.twitter.com/8bUb7aATKH

— Bud Light Canada (@BudLightCA) October 31, 2017
In the video, the viewers is given Bisping's viewpoint as he faces GSP.  The video pokes fun at Bisping who drinks tea and succumbs to a GSP crane kick, take down and ground and pound.  GSP also calls his opponent an "English Muffin" and ends the video with the infamous "I'm not impressed by your performance" line he used many years ago in reference to Matt Hughes.
Payout Perspective:
It appears that Bud Light will be a sponsor for GSP on Saturday as we see a level of activation in preparation for the UFC's return to New York.  We have not seen GSP in a while and we will see how many other sponsors will gravitate around the former champ as we approach Saturday's PPV.
Welcome to a special edition of Payout Perspective.  Almost a week later, but we are still talking about The Money Fight that took place August 26th at the T-Mobile Arena.
Mayweather stops McGregor in 10
Floyd Mayweather waited it out.  As most believed, he tested out Conor McGregor for the first couple around before going on the offensive.  Out of the ordinary for the counterpuncher, but Mayweather pressed McGregor and it was clear that the UFC champ was tiring.  Despite not being brought to the canvas, the fight was stopped.  A good call despite McGregor's post-interview protesting.
Mayweather gets his 50th win against McGregor who takes his first loss of his career.  Of course, it was just McGregor's first fight.
We should see McGregor back in the Octagon but it's clear that Mayweather may want to dabble in boxing again.  He wasn't the worst in there but boxing in MMA is different than boxing.
Attendance and Gate
The fight was not a sellout which was not a surprise leading into the fight.  The astronomical price to see the event without much of an undercard likely was the primary reason for a non-sell out.  Due to the prior disappointment of Mayweather-Pacquiao, the event likely scared the big spenders away.
Payouts
The official payouts from the event had Mayweather earning $100 million not including PPV upside and McGregor getting $30 million.
Attendance and gate
The only thing that may have been a disappointment was the attendance for the event at the T-Mobile Arena. The event drew 14,623 although the gate was yet to be officially announced.  It was thought that due to the high prices the event would have drawn over the $72 million record for May-Pac.  With capacity at 20,000, the event fell way short of capacity but the big financial boon was the $99.95 price tag for the PPVs.
Promotion of the Fight
The 4-city world tour this past July introduced us to The Money Fight.  Maybe the Toronto tour stop was the best and the New York/Brooklyn stop was the worst.  Whatever you thought of it, it was the beginning of a monthlong run-up to the fight.
There were tons of promotion around the event including Showtime All Access and UFC's Embedded Episodes.  At times, it appeared that each show favored its own boxer.  As always, this shoulder programming always interests me.
Saturday Night Live did a skit during its prime time Weekend Update the week before the fight.  The skit featured someone pretending to be Conor McGregor.  It was a bad impression.
Television Ratings
The Prelims to Mayweather-McGregor on Fox peaked at 3.1 million viewers and averaged 2,568,000 viewers.   It drew an outstanding 1,156,000 viewers in the A18-49 demo.
Other associated ratings:
Mayweather-McGregor Prefight Show 1,463,000
Mayweather-McGregor Postfight Show 368,000
Mayweather-McGregor Weigh-In 287,000
PBC on FS1 drew 269,000 viewers on Friday night.
PPV estimates
Dana White proclaimed that the event drew 6.5 million buys.  Showtime stated that the fight sold between 4 and 5 million buys.  Other reports stated that the initial estimates did not break the 4.6 million record of Mayweather-Pacquiao.  ESPN noted that an estimated 50 million people saw the event.
The PPV estimates will not come in until this week but Showtime's Stephen Espinoza claims it was a "massive financial success."  This seems like an understatement based on the numbers.
Espinoza noted in a New York Times article that 10 to 12 percent of the total buys were through a digital service.  We note the tech difficulties those users had below.
Technical Difficulties
Due to the high demand, people reported issues with their streaming of the event.  The Showtime App, UFC.tv and Fight Pass were the main culprits with issues although other ways to purchase the PPV had problems.
Showtime issued a "limited number" of refunds.  Espinoza seemed to minimize the affect the technical difficulties had claiming that they were "definitely exaggerated."  However, the first lawsuit filed over not being able to watch the event was filed in Oregon over futile attempts to watch the vent on the Showtime App.
The fight was delayed 20 minutes to accommodate for the technical difficulties but those paying $99.95 shut out of the telecast.
The UFC did not immediately state they would issue refunds, but upon meeting with its vendor, noted that it would issue refunds for those that had issues on the UFC.tv/Fight Pass app.
The Las Vegas Review-Journal noted that the PPV issues "appeared to come from a surge of late purchase and connectivity issues."
Related?  The UFC announced less than a week later that FITE.TV would become the UFC's new online streaming partner.  No official word, if NeuLion is out altogether with the UFC.
Sponsors
Corona was the main sponsor for The Money Fight.  Notably, this was not rolled out until a week or so prior to the fight.  One would have thought that the sponsorship for the event would have been announced much sooner.  In addition, Body Armor was very visible during the event as "towels and stools in the fighters' corners had the Body Armor logo on it.  Also, fighters took their hydration from Body Armor bottles.  Also, Wish Shopping made a big splash with signage on the mats and on the weigh-in scale.
McGregor wore irish flag-inspired Beats By Dre headphones for the weigh-ins.  The company also released an ad starring McGregor on August 23rd.  McGregor signed a sponsor deal with Online betting site, Betsafe.
Odds and Ends
There were tons of newsy items coming out of this event and we couldn't get them all in.  I wrote a preview on many of the issues including the commission agreeing to the glove change and Zuffa signing on as a co-promoter here.
While the PPV estimates may break records, Showtime had to deal with pirates using Periscope.  While Showtime obtained an injunction to stop some sites, it could not stop private users.  A tech security company claimed that almost 3 million viewers watched pirated streams.
Conor McGregor's flip up sunglasses during the promotion of this fight were reminiscent of Dwayne Wayne's.
Conor McGregor announced the roll-out of his first foray into the whisky business:
Connor McGregor's entering the whiskey business. Here's a look at "Notorious Whiskey" pic.twitter.com/5xsxPkg6FB

— Sports Illustrated (@SInow) August 27, 2017
Floyd Mayweather introduced TMT-themed apparel for this event including one with the Irish Flag colors on a TMT shirt. He also had an assortment of mouthguards.  Iceberg Guards is selling a replica guard of the one he wore during The Money Fight for $295.00.
Gervonta Davis drew 100,000 google searches on Fight Night mainly due to his headgear coming out during the walkout.  Davis won, but drew the ire of some fans since he didn't make weight.
While the Mayweather/McGregor announcement overshadowed the rematch between Andre Ward and Sergey Kovalev this past June, Top Rank attempted to take advantage of the assembled media in Vegas by announcing a deal with ESPN that would include providing the company with the Top Rank fight library for an upcoming Disney-OTT platform.
ESPN showed old Mayweather fights where analysts talked about how he was such a pro and a likeable guy.  How times have changed.  The UFC also aired his fight with Maidana on UFC online to help promote the fight.
Although there was much publicity for this fight, the Miguel Cotto fight in Carson, California on the same night drew 730,000 viewers on HBO which is very good considering it was overshadowed by The Money Fight.
Mayweather and McGregor did the standard media appearances including on Jimmy Kimmel.
There were over 10 million google searches for the "Mayweather vs. McGregor Fight," and 10 million google searches for "Mayweather."
Conclusion
Usually we predict a buy rate, but with the news that it's likely between 4 and 5 million PPV buys, we don't have to conclude that this fight was a success.  The only question will be whether the buys passed the 4.6 million PPV record.  Whether or not it did, this fight was impressive in how it was marketed and promoted.  The UFC helped its brand with its involvement in the event and Mayweather made money as he always seems to do.  Will we see more crossover fights in the future?  Only if it is big names and promises to bring in big numbers.
Beats By Dre has signed Conor McGregor to an endorsement deal.  McGregor joins the list of athletes that the headphone company is signing.
You might recall that McGregor was one of several athletes that was featured in a Beats By Dre commercial in December.  His partnership with the company is now official.
In addition to Beats By Dre, McGregor has sponsorship deals with Reebok, Monster Energy and Bud Light.  The company is deepening its relationship with mainstream athletes and McGregor is considered one of these athletes.
Humble beginnings. Dangerous intentions. Welcome to the Beats Fam, Champ @TheNotoriousMMA. #BEHEARD pic.twitter.com/7gvbbeLdr1

— Beats By Dre (@beatsbydre) May 26, 2017
Payout Perspective:
The deal should be beneficial to both sides.  If the Mayweather fight happens, Beats wins with the anticipated exposure from the fight.  McGregor gets another sponsor deal to add to his list of blue chip brands.  It also reflects the belief that McGregor is a mainstream star that most would recognize.
Nate Diaz says he has a lot going on outside of fighting and maybe he does.  According to his latest social media post, he is promoting wine in Northern California.
In an interview with Ariel Helwani on Wednesday, Diaz talked extensively about what he is up which includes working with marijuana businesses and apparently, wine.
MMA Junkie confirmed the billboard is real with the fighter's publicist Zach Rosenfeld.  Rosenfeld is the son of longtime public relations exec Stan Rosenfeld.  Zach joined his father's firm to start a sports practice.
In the interview this past Wednesday, Diaz stated that he turned down a fight with Tony Ferguson for this July at UFC 213.  He also stated that the UFC has extended his fight contract with the company due to the fact he has been inactive.
Payout Perspective:
While the billboard is odd, Diaz is expanding outside of the Octagon which is a good move and a look toward a life where he no longer needs to fight to earn money.  Notably, his brother Nick has a Bobblehead Night this Sunday at the minor league, Stockton Ports game.  On July 14th, Nate will have his own Bobblehead Night with the team.  So, it does seem that there is a strategy to focus on his local notoriety and perhaps expand later on.  We shall see if Diaz steps back into the Octagon anytime soon.
UFC 208 will be the third time that the company has held a show in the state of New York since it legalized professional MMA last fall.  Are fans interested in this PPV?
In the main event, Holly Holm takes on Germaine de Randamie for the new UFC women's featherweight title.
Also, Anderson Silva returns to action taking on Derek Brunson.
UFC 208 will be the second time a UFC card was headlined by women without Ronda Rousey as one of the main eventers.  The other, UFC 200, featured Amanda Nunes and Miesha Tate.  Of course, that was by necessity with Jon Jones being pulled from that event.
One must surmise the UFC had hoped for another title fight (possibly Diaz-Conor III) to headline this card with Holm as a strong semi-main.  With McGregor taking a prolonged paternity leave and Nate Diaz trying out boxing since he claims the UFC put him on ice, fans get the matchup for a new title.
Perhaps this slot was to be for Cris "Cyborg" Justino.  But, she was flagged by USADA.
So, it comes down to Holly Holm.  While Germaine de Randamie might be a promising fighter, she has only 2 fights since 2015.
Holm is on a 2-fight losing streak which included losing the title to Miesha Tate in March and then dropping a decision to Valentina Shevchenko in late July.
However, the latter fight, which aired on Fox, scored the highest rating for a summer show since the company has been on Fox.
Her main event loss to Shevchenko peaked at over 4.6 million viewers with the broadcast averaging near 3 million viewers.  Holm defeated Ronda Rousey in November 2015 to tear down the former undefeated champ's mystique and essentially end her career.
But, is her appeal enough to draw on PPV?
Anderson Silva's drawing power is now past its prime and marketing efforts are behind the Holm-de Randamie fight.
There are signs that this event will not draw.  There is no sponsor for the Embedded series, which have been lackluster to say the most.  UFC 208 is not trending online and the peak viewership of the weigh-ins on YouTube was comparable to that of UFC 206.  The event featuring Jose Aldo and Max Holloway drew 150,000 buys and was the lowest rate for 2016.
It appears that UFC 208 will be on par with UFC 206 as its truly a card for the hardcore UFC fans.
Cosmopolitan featured Ronda Rousey and her eating habits in a recent post about the UFC fighter.  The write-up is another good placement for making in-roads into the female demographic.

The online article includes a video interview with Rousey as she describes her diet.
Recently, Rousey has appeared on two mainstream programs with demos that target women – "Ellen" and "Good Morning America."
As an aside, in comparison, here is a snapshot of Dwayne Johnson's diet going into the role of Hercules.
Payout Perspective:
Cosmopolitan is a magazine made for women.  According to its 2016 media kit over 14 million of the 16 million estimated readers are women and a bulk of those women are in one of the UFC's target demos (18-49).  The allure (no pun intended with the mag of the same name) of targeting women makes sense for UFC marketing purposes as it seeks to expand its audience.
Will this effort help with selling UFC 193?  We shall see.
Six weeks away from UFC 189 and the UFC will go all in with its promotion of the Jose Aldo-Conor McGregor fight on Saturday, July 11th.
The official trailer was revealed during Saturday's UFC 187.  If you had watched the UFC Embedded videos for the World Tour, you may recall the shooting of the promo on the Las Vegas Strip.  The promotional video shows that the UFC is spending a lot of money for the event.
The promotion indicated that it will make some commercial buys during the NBA Playoffs.  With both Eastern and Western Conference Finals heading to sweeps (or near sweeps), we may see UFC commercials during The Finals next week.
Payout Perspective:
If the World Tour earlier this year wasn't enough, we will see more Embedded videos leading up to the fight. We can expect more ad placement along every platform.  The hype for UFC 189 will outdo UFC 182 earlier this year. The World Tour included an extensive Embedded series which was entertaining mainly due to Conor McGregor's antics.  Expect a 10 series Embedded series in lead-up to the event as well as a UFC "Bad Blood" episode which likely will air on FS1.  A lot is going into this production as many predict this to be the biggest fight of the year (so far).  With a lot invested in this event, Zuffa is hoping that it brings in the PPV buys.
Frito-Lay's Doritos brand tortilla chip is seeking to make a significant mark in leading up to UFC 180: Velasquez vs. Werdum.  According to the Sports Business Journal, it is set to conduct a full-blown activation in Mexico.
Doritos is activating a 360 degree campaign in 300-plus stores across Mexico with more than 2.5 million bags printed and in market from October through November 2014.  The campaign will be supported across multiple platforms including mass media, digital, social media and business-to-business.
Payout Perspective:
The Doritos marketing strategy surrounding UFC 180 is similar to that of Tecate's U.S. strategy (without the PPV rebates) in lead up to a Pacquiao fight.  Even though UFC 180 may not be considered a marquee event in the U.S., it is big in Mexico and Doritos believes that it is too.  With a "360 degree" marketing campaign promoting the event, one would hope to see a substantial number of viewers for this event thanks to this marketing.
Welcome to another edition of Payout Perspective.  This time we take a look at the last UFC event of 2013 from the MGM Grand Garden Arena in Las Vegas, Nevada.
Weidman retains belt after Silva breaks leg
Corey Hill. That is what went through my mind as Anderson Silva's shin was shattered on a Chris Weidman leg check.  Many may recall the lanky TUF competitor breaking his leg on an eerily similar
Leg checks are gruesome as it is and Silva's kick that broke his leg looked like it was right on Weidman's knee.
It appeared that Weidman may have knocked out Silva in the first but Silva was able to survive round 1 and even bloodied Weidman.  Although Weidman likely won round 1, the fight was still up in the air before the kick despite folks concluding that Weidman would have won the fight.  Weidman did look much improved from July and solidified his standing as the division's champ.  It appears that Vitor Belfort may be next.  The question is will it be in Vegas or Brazil?
As for Silva, it's likely the end to his career.  At 38, Silva has had a successful run and should be financially set for the rest of his life.  We may see him in the UFC in some sort of emeritus role but never again in the Octagon fighting.
Rousey armbars Tate to retain title
Ronda Rousey submitted Miesha Tate although the challenger put up a fight and was the crowd favorite throughout.  Rousey refused a Tate handshake at the end which solidified her as the heel.
Tate was a heavy underdog and it seemed that surviving the first round was a victory in itself.  Despite not getting armbarred in the first or second round, Rousey was still dominating the match.  Her Judo was exceptional and one has to wonder why attempt to take Rousey to the ground when Tate scored with shots on her feet.
Rousey has a quick turnaround as she fights Sarah McMann on February 22nd.
Some have speculated that the Rousey-McMann fight was made to coincide with the Winter Olympics.  Both were medalists in the Olympics.  The only problem with this theory was that Rousey and McMann competed in the Summer Olympics.
Browne KOs the Warmaster
Travis Browne used his elbows to KO Josh Barnett in what was a mini-upset.  Browne propels himself to a fight with Fabricio Werdum with the fighter likely getting Cain Velasquez.
Attendance and Gate
As announced at the post-fight press conference, it was the second-highest gate for an MMA event in MGM history with 15,650 for a gate of $6.2 million.
Bonuses
Rousey, Tate and Browne were the recipients of the fight night bonuses.  Instead of the standard $50K each, the UFC upped the bonus to $75K.
FOTN – Rousey-Tate
Sub – Rousey
KO – Browne
As we previously pointed out, Jim Miller should have received the Submission of the Night with his slick setup and eventual arm bar of BJJ Black Belt Fabricio Comoes.
Salaries
The Nevada State Athletic Commission revealed the pay of the top 3 fights on the card (via MMA Junkie).  The rest of the card should be made public later this week.
Chris Weidman received a big pay increase in pay in his first title defense.  He received $200K to show and another $200K for the win for a total of $400K.
Silva received $600K and would have made another $200K if he won.
Rousey made $50K/$50K but with another $150K in bonuses she tallied $250K for the night.  Tate made $28K and another $75K for $103K.
Josh Barnett made $170K and Travis Browne made $56K ($28K/$28K) plus his $75K win bonus for a total of $131K.
Raise in PPV Price
One of the surprises that came before the fight was the $5 bump in price for the last PPV of the year.  UFC 168 was the first at $59.99 (HD) and $49.99 (SD).  White indicated that this would be the only time it would raise its price.  However, there is some confusion as to whether the $59.99 will remain in 2014 as the current prices on the UFC web page list UFC 169 an 170 at $59.99 although there are reports the listed price is a mistake.
There were many promotional commercials leading up to 168 that still promoted the PPV as $54.95 although you were likely made known of the price change when you went to order.
The rise in the price could mean more people went to bars to watch the PPV and maybe more fight parties.
Promotion of the Fight
The UFC went all out for UFC 168 with branding all over the MGM Grand including the key cards, slot machines and gaming felt.  I can attest the UFC has done the gaming felt back in the Tito Ortiz days (circa 2006).  Still, the constant reminders of the fight likely helped out.
ESPN got in on the action as it let Dana White take over its twitter and Instagram accounts on Saturday to hype the fight.  The obvious conflict is that White's company is featured on ESPN's newest competitor, Fox Sports 1.  The fact White is allowed to promote on ESPN and that ESPN wants White to promote the UFC infers that MMA is legitimately making strides as a sport that is newsworthy (well, except that ESPN got rid of the over the air version of MMA Live).
UFC used FS1 to promote the fight and showed Weidman-Silva I and also aired "Fighting Words" which was an interesting look at the first fight that included audio of the corners that caught what each said to their fighters.  It also included interviews by both fighters and audio from Jon Jones and Urijah Faber at the fight.  While UFC Primetime has been shut down, this show did a great job in recapping events leading up to the rematch.
The Saturday morning edition of Good Morning America did a spot on Ronda Rousey which is a pretty big even if it was the weekend crew of GMA.
Fight Pass
The UFC held a press conference prior to the fights to announce the UFC's new digital network, the UFC Fight Pass.  More on this later but the sweetener for UFC fans is that it is giving users 2 months free before it charges your credit card $9.99 per month.
Sponsors
Sears was the newest "big" sponsor to the Octagon.  Maybe a "one off" but I'm sure the UFC hopes that it can bring it in as an official sponsor.  Tapout, MusclePharm, Harley Davidson, Toyo Tires, Cinemax's "Banshee", Peter Berg's movie, "Lone Survivor", WarGaming.net, MetroPCS and Bud Light with the center.
UltimatePoker.com had the prep point outside the cage and AXS TV had the official weigh-ins.
Harley Davidson ran a promotion for its Project Rushmore motorcycles in which the winner of Weidman-Silva would win a motorcycle.
MetroPCS also had a unique activation for this event where twitter users could obtain a "personalized" digital photograph of Ronda Rousey.
Interesting sponsor of the night:  Autoshopper.com.  It was on a number of fighters including Miesha Tate.
1Law.com, a law firm out of Utah picked the right fighter to sponsor as it was on the front of the shorts of Travis Browne as he KO'd Josh Barnett.  It has sponsored Browne in the past.
Monster (an official UFC sponsor) headphones are going to be around more and more heads in the Octagon so get used to them having them on and not listening to anything.
Nike was noticeably absent from Anderson Silva.  When asked by Ariel Helwani in a pre-fight interview, Silva told him to ask Dana.  White deflected comment but it was clear that Nike did not pay or would not pay the sponsor fee for Silva this time around.  To be clear, Nike still sponsors Silva, it's just that he was not on Silva's shorts, shirt or banner.
Rousey was sponsored by the UFC in what looked like signature gear.  She was also sponsored by Xyience.
Tate had a number of sponsors including Autoshopper.com, Venum, Affliction and Training Mask.
Silva did have less sponsors this go round.  He had Wizard, Burger King, computer maker Lenovo and soccer club Corinthians Paulista.
Weidman had an assortment of sponsors including Bad Boy Club, Oak Grove Technologies, American Ethanol, Monster and investment firm InCapital.
Post-UFC 168 Headlines
The new faces of the UFC.  Saturday we saw the two new faces of the UFC in Ronda Rousey and Chris Weidman.  With GSP and Anderson Silva gone within weeks of each other, Weidman should be marketed as the top UFC guy.  Even though Jon Jones has a fair argument here, his last couple of fights have not equated to PPV success.  Weidman took down the GOAT twice and we will see how long he can defend the belt in this division.
Despite being the "heel" against Miesha Tate, Rousey has the "it" factor that draws people to watch her.  She is brash, dominant and that look of determination walking to the ring would have anyone hiding their arms around her.  The question is whether the fame and time obligations may catch up to her.  With her next fight so close to this one and coming off of shooting two movies, we will see if it catches up with her.
Odds and Ends
-The UFC offered closed circuit of the fight at the MGM for $60 per person.  I do not believe the UFC put this PPV in movie theatres.
-There were over 5 million Google searches for Anderson Silva on Saturday night.  Most searchers likely wanted to see an image of his broken leg.
-It was the first time I recall the main event fighters coming out from different sides of the curtain at the weigh-ins.
-Over 14.6K people were on YouTube at the start of the very first fight which bodes well for viewership for the rest of the card.
-Rumors of Brock Lesnar in Vegas during UFC 168 is reminiscent of the two guards that sat in the courtroom that unnerved Colonel Jessup in "A Few Good Men."  In other words, the UFC could have just flown Lesnar out to Vegas and create a story that wasn't there.
-Rousey and Tate are complete opposites and this was most telling in their walkout songs.  Katy Perry (Tate) vs. Joan Jett (Rousey).
-Due to the short fights, there was a lot of downtime and "commercials" and the live fights ended at 9:30pm PT.
-Buried by the main event stories was the second straight impressive win by Michael Johnson on the Prelims.
-Uriah Hall saved his job, while Chris Leben likely heads to retirement.
–Marc Jacobs is selling a Ronda Rousey t-shirt.
-Anyone else notice that the broadcast team kept pumping up the odds including right before the Tate-Rousey fight.  That might not be new, but what was new was that it directed people interested in odds to the UFC web site.
Conclusion
The hype for this fight was the biggest this year and the women co-main event had a lot to do with it.  It may be one of the highest HD PPV buys ever.  There was a lot of mainstream buzz for the fight which not always transfers into PPV purchases. But I think the buzz helped.  Despite the protests about the price increase, it will likely not affect the final PPV buys.  An estimation of around 750K PPV buys should be attainable if not surpassed after all is said and done.
To say that tomorrow's UFC 168 is an important event for Zuffa this year would be quite the understatement.  In fact, the focus placed on UFC 168 has been so strong that some have argued that it has actually undermined the UFC events in between, which caused them to under perform. We will take a look at some of the numbers and the promotion being put together the week leading up to the event.
The UFC announced on July 13th, 2013 that the highly anticipated rematch between new Middleweight champion Chris Weidman and MMA legend Anderson Silva would take place on UFC 168, making Rousey vs Tate 2 and incredibly strong co-main event for the casual fans and mainstream. Since that announcement was made, about 5 months before the event was to take place, the UFC made it no secret it would be heavily promoting the event, which include an entire season of TUF dedicated to pitting both coaches on the PPV along with countless of media appearances and press conferences.  To summarize, the UFC has been promoting UFC 168 for five months straight hoping to cash in big at the end of the year.
In that span, the UFC has hosted four PPV events, from UFC 164 to UFC 167, and all have arguably underperformed.  Pettis vs Henderson, the highly anticipated rematch from WEC, which produced the Showtime Kick, drew less than 300,000 buys.  Jon Jones was the first noticeable casualty, drawing his lowest PPV buy rate since becoming champ.  Velasquez/JDS III drew 330,000 viewers while Velasquez/JDS II drew 590,000 the previous year.  GSP's 630,000 PPV buys are the lowest since UFC 87 in 2008 against Jon Fitch z9 not to mention that it was the UFC's anniversary event).   All events underperformed, but will the gamble to place most of the attention on UFC 168 for almost half a year pay off? They are certainly betting on it.
| | | |
| --- | --- | --- |
| UFC 168 | ???? | Weidman-Silva II |
| UFC167 | 630,000 | GSP-Hendricks |
| UFC 166 | 330,000 | Velasquez-JDS III |
| UFC 165 | 325,000 | Jones-Gus |
| UFC 164 | 270,000 | Henderson-Pettis |
The UFC has gone all in the week heading into UFC 168 with countless ad spots on FOX Sport properties and key big FOX spots during NFL programming.  The UFC even scored an appearance in Good Morning America this morning. To put it bluntly, a lot of money was spent on promoting UFC 168 and considering that UFC predicted the event would be as big as UFC 100 (1.6M buys), they really had no choice.  Then again, the UFC also bumped up the PPV price by $5 just for this event, hoping to reach UFC 100 levels of revenue even they most likely won't be able to match the buyrate.  This week, Dana White estimated the gate for UFC 168 to be around $6.3M already, which would place it among the top gates in the company's history.  It also appears that ESPN is all in for this event, which has historically meant good things for the UFC.
Now, is the event a shoe in to become a huge PPV success? Well, not necessarily.  End of the year between Christmas and New Years has always been a tough sell due to the festivities, new toys, NBA, and CFB Bowl games. UFC 141 hosted a huge main event between Brock Lesnar and Alistair Overeem, two of the biggest and physically gifted athletes in MMA.  Lesnar had been a shoe in for 1M PPV buys for years with the UFC, and adding an opponent like Overeem seemed like a PPV buyrate slam-dunk. Only, it didn't turn out that way.  The event ended up doing around 535,000 buys, which is nearly half what most expected, though there were a few key differences between that event and UFC 168.  One major factor was holding UFC 141 on December 31st (Friday night) where UFC 168 is being held on the more traditional Saturday night time slot. Lesnar had also lost his belt for that bout for his bout against Overeem after being dominated by Cain Velasquez along with many health concerns.  However you slice it, UFC 168 will be a hugely successful event, though the question of whether it can crack the 1M PPV buyrate which Lesnar and only a couple of other main events have been able to accomplish in the past 5 years is still up in the air.
Lets take a look at some of the promotion:
The MGM Grand in Las Vegas has been completely taken over ahead of Saturday's UFC 168. #DanaCenter pic.twitter.com/ZvcL753fKW

— SportsCenter (@SportsCenter) December 27, 2013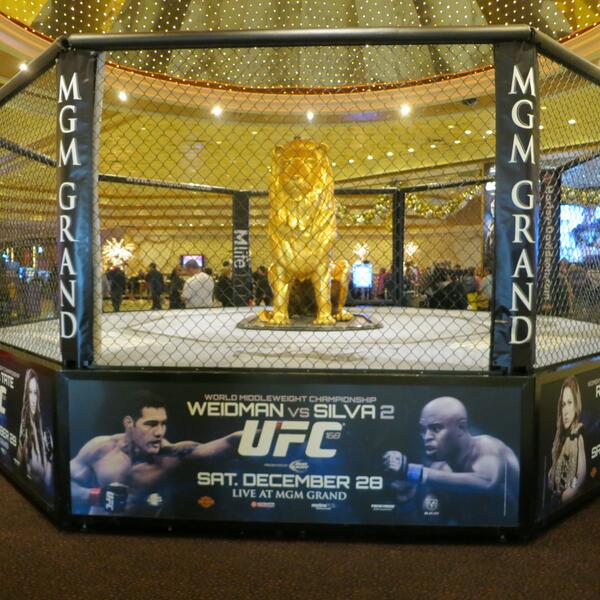 #UFC168 weighins almost here! pic.twitter.com/ZjSzL4UBgn

— MMAWeekly.com (@MMAWeeklycom) December 27, 2013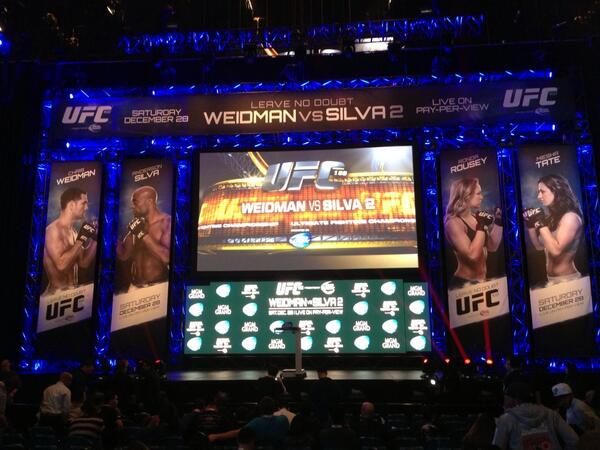 #UFC going all out promoting this one. pic.twitter.com/hxWaa1wrGz

— MMAWeekly.com (@MMAWeeklycom) December 27, 2013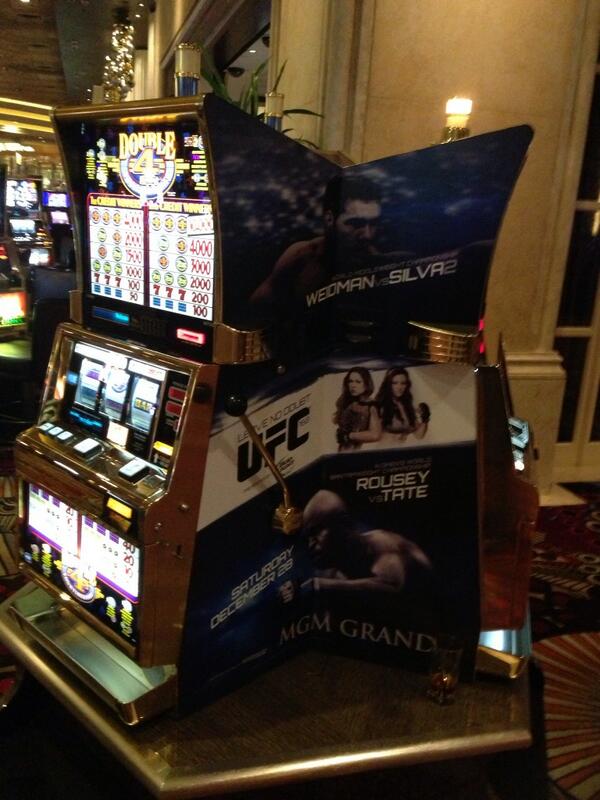 See what we mean? #UFC going all out … Or is this all in?!!! #UFC168 pic.twitter.com/5aO7A3Fkwc

— MMAWeekly.com (@MMAWeeklycom) December 27, 2013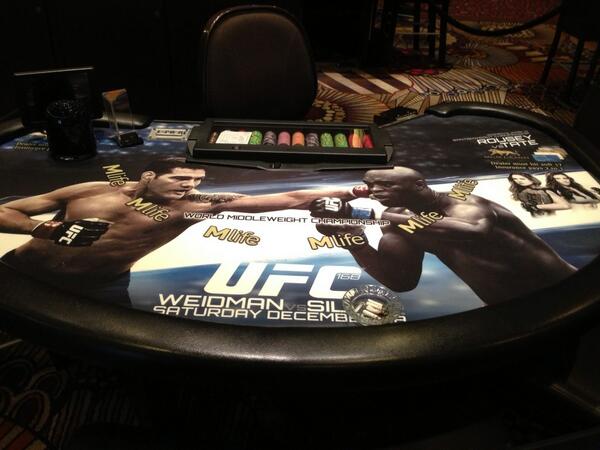 New Post – Dana White to take over SportsCenter's Twitter and Instagram on Saturday http://t.co/VvjgZNgJ5g

— Awful Announcing (@awfulannouncing) December 27, 2013
How much buzz does #UFC168 have? @GMA confirmed for interview with @RondaRousey tomorrow. Set to air on Saturday morning. Cc: @RyanGrabUFC

— Dave Sholler (@Sholler_UFC) December 27, 2013
I don't know about y'all but I am HYPED for this #UFC168 tomorrow night! Gonna be a great one! @danawhite puts on one hell of an event.
— Justin Timberlake (@jtimberlake) December 28, 2013