Dana White has expressed his discontent with the current negotiations with UFC Lightweight Gilbert Melendez and has all but told the former Strikeforce Champion to look elsewhere for work.
On Wednesday's "UFC Tonight" on FS1, White spoke out about the contract negotiations with Melendez's representation as the parties are at an impasse with a new deal for Melendez.
Although it was not officially reported how much he made at UFC 166, he did receive a $60K FOTN bonus for his bout with Diego Sanchez.  He did make $175K at UFC on Fox 7 in a loss to Benson Henderson.  One assumes that Melendez would like to improve on his $175K show salary.
The MMA Report brings up a good question: whether a fighter should look for top dollar or the best competition when it comes to deciding where to fight.  There is the example of Ben Askren who was let go by Bellator in order to presumably sign with the UFC.  However, he chose to sign with Singapore-based OneFC where he will make $50K/$50K to start.  Arguably, Askren is one of the top welterweights in the world and has a personality that would make him marketable.  The knock on Askren is that his fight style is not appealing to the casual viewer.  One would think that he would choose the UFC over an overseas company.
When I think of the Ben Askren choice it reminds me of NBA player Josh Childress.  A Stanford alum, he left the NBA after 4 productive years and with an offer to stay in the NBA but decided to make more money in Greece.  But after 2 years, Childress ended back in the NBA and cited issues with getting paid and less amenities overseas as compared to the NBA as reasons he chose to return.  Thus, this is an example of why taking the most money may not be the best for a career.  Of course, MMA differs from basketball if you were to just compare the physical rigors and average shorter career span of a fighter.
One of the underlying issues that may be hampering the negotiations is that Melendez is represented by the same agent as Georges St. Pierre.  As we know, GSP's departure from the UFC was awkward and may have been less than amicable.  GSP spoke out about drug testing in the UFC which unsurprisingly drew the ire of White.  Is the difficulty in brokering a new contract for Melendez in part due to White's anger at GSP via his agent?
Then there's the use of the media in the negotiations.  First, there was White's public comments on FS1.  Then, in a bit of a surprise, the UFC on Fox twitter account tweeted an article it posted on its Fox Sports web site in which it mocked Melendez for the stalled negotiations.  The article actually admits it has scant information on negotiations but would speculate on the reasons why Melendez has not come to an agreement.
Payout Perspective:
Melendez has a short timeframe to earn as much as he can in a sport where the premise is to inflict maximum pain on your opponent.  This takes a toll on the fighter physically and mentally.  However, the sacrifice is worth it assuming he is compensated enough to take care for himself and his family.  In MMA, it's unlikely that a contract will make someone set for life but a fighter has the potential to do much better than he would if he or she just had a 9-5 job.  We do not know how much Melendez is asking for but one might assume he wants to make sure he is fairly compensated (in his mind) for his sacrifices.
Like many sports executives, White is negotiating through the press.  Calling out Melendez's agents is a part of negotiations.  A new wrinkle is the use of Fox Sports to seemingly call out Melendez for not agreeing to a contract.  In other sports, the media produces pieces calling out one side or another in negotiations but the Fox Sports piece is a blatant run at Melendez.  Is it fair?  Should Melendez and his representatives respond with their side of the story?  We shall see.
Marshall Zelaznik of the UFC today announced that Fight Pass is now available for Apple iOS devices, though Apple TV is not yet supported.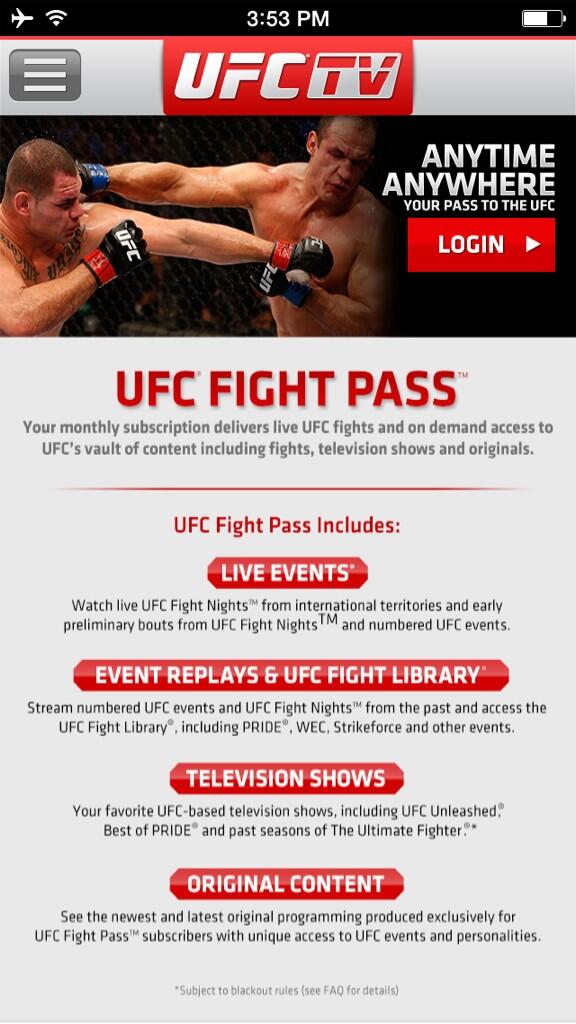 Payout Perspective:
Making Fight Pass available on Apple devices is a big step for the UFC, though the date for when the app will be available for Apple TV is still to be determined.  Though it is a big step for the UFC to get this up before the free trial ends and contains some big improvements, users are still reporting pretty issues, such as the lack of a search functionality.  Availability for other devices such as PS4, Xbox One, and Roku are still up in the air.
At this time, users can register on a desktop or laptop then access your content through Apple devices.
Bellator today announced a five year extension with long-time on-air color analyst Jimmy Smith.
After 109 Bellator events, fans around the world have become accustomed to hearing on air analyst MMA veteran Jimmy Smith break down the intricacies of every fight inside the Bellator cage. That analysis will continue as Smith and Bellator have agreed to a new five year contract extension that will keep the former fighter turned broadcaster on air for Bellator through 2018.

"I couldn't be happier to know that the next half decade I'll be able to continue calling Bellator home. The entire team at Bellator are really like family to me and to have seen this family/company grow the way it has since I came aboard is really incredible," Smith said. "I've been with Bellator since the start of Season 2, and I've called almost 100 fights with the company over the last five years. Our partnership with Spike, the ratings, audience, sold out live events and most importantly the incredible fights, makes this a perfect situation for me. Having seen firsthand what's happened over the last four years, I cannot wait to see what happens over the next five. I absolutely believe in Bjorn's vision and in everything that Bellator, Spike and our family are doing. I'm just thrilled to be part of it long term. "
…
A wrestler in high school, Smith began studying at UCLA and joined the schools wrestling club. After a local jiu-jitsu instructor showed up to teach a class for the club, Smith was hooked on mixed martial arts, and began training with Team Punishment in Huntington Beach. After a 6-1 professional career concluded in 2006, Smith began working on "Fight Quest", which featured Smith traveling the world as he learned different fighting styles from across the globe. After a two year run on "Fight Quest", Smith received a last minute call to commentate a fight in Russia with play-by-play man Sean Wheelock.
…
"I had no idea what to expect when I sat down, but Sean gave me a quick crash course in broadcasting, and I just took it from there," Smith said. "From that point on, Sean and I began to build a chemistry together, and after calling fights all around the world together, we really developed a unique bond and comfort level with each other that I think transfers over to the broadcast. It was that chemistry that led Sean and I to Bellator."
…
As Bellator was set to begin its second season in 2010, the promotion was looking for a veteran broadcast team to anchor the telecast. While the two had never met, a phone call between Smith and Bellator CEO Bjorn Rebney was all that was needed to convince Rebney he had found the right team.
…
"I called Jimmy early in 2010 about the possibility of joining the Bellator team," Rebney said. "I was familiar with his work, but had never had an actual conversation with Jimmy. I brought up that we were doing a welterweight tournament in our second season, and before I could talk about who was fighting, Jimmy gave me a breakdown of every fighter in the tournament, who he thought was the favorite, and who I should keep my eye on. It was evident then this was the guy we needed, and the rest is history. The chemistry between Sean and Jimmy is magic. In almost every highlight we have in our collection, those are the two voices you hear. They are in the fabric of everything we do, and it's great to have Jimmy on board with our family for the next five years."
Payout Persective:
Smith has been with Bellator since the start of season 2, has called over 100 Bellator events, and is one of the best color analysts in MMA.  The extension makes perfect sense for Bellator and benefits Spike TV as it keeps the production package in tact going forward. In it's current state, keeping a familiar aspect of the presentation is crucial as the product is trying to increase it's viewership on Spike TV.
There were some rumors a year ago about Smith and Bellator parting ways, but this extension should put all those rumors to rest.
In anticipation for EA Sport's UFC video game release in Spring, EA Sports will be releasing video game  footage and fighter screenshots to build up the launch.  This weekend, new footage was released to illustrate the next-gen likeness that the UFC video game can take advantage off from the PS4 and Xbox One.
Payout Persective:
EA Sports UFC video game looks to be coming along quite nicely.  With only a few months away from the expected launch date, you can expect more videos and footage to be released with promotion kicking into another gear real soon. So far, the images and short clips have looked great, but the in-game play has been kept a secret so far.  There are a few hands-on reviews starting to leak, like this one from gamesradar.  We will keep an eye out for the release date, which the UFC will heavily promote with a UFC event.  An EA Sports heavy promo strategy on the April UFC on FOX 11 event.
UFC Featherweight Conor McGregor is one of the stars in a recently released Heineken commercial. Currently rehabbing from injury, McGregor is taking advantage of his time off.
As you can see from the commercial, McGregor's special talent is that he can make origami cranes…or that he has the patience to make them.
The commercial is part of a "hidden talent" search in Ireland sponsored by the beer maker.
Via the Irish Examiner:
From now until March 2 Heineken is inviting anyone to submit their legendary talents (with a difference) via Heineken.ie/IrishLegend. In exchange, Heineken will reward one lucky legend with a once in a lifetime trip to stay on their very own private paradise island in Belize.
Payout Perspective:

The commercial is a great opportunity for McGregor who has received a lot of publicity in the UFC despite just having 2 fights in the Octagon before getting hurt. Although it's unlikely that McGregor could ever be sponsored in the Octagon by Heineken (since Bud Light is the official UFC sponsor), these out of the Octagon commercial opportunities can help with his mainstream pitchman appeal.
The UFC announced that it had successfully taken and down and seized the records of a web site that illegally streamed two PPVs.  Also, it has made good on its threat of pursuing individuals accessing these illegally streaming sites.
The UFC has seized the records of www.cagewatcher.eu and it appears that the UFC will use this information to go after its users.
Via UFC web site:
UFC has obtained details of the streaming site's userbase, including email addresses, IP addresses, user names and information pertaining to individuals who watched pirated UFC events including UFC 169. Also recovered were chat transcripts from the website.
In related news, there has been one instance where Zuffa has successfully obtained a judgment against an individual utilizing www.greenfeedz.com, a web site that provides illegal streaming of copyrighted content.  The individual did not respond to Zuffa's lawsuit against him and a default judgment was entered in against him.  The individual viewed two PPVs without paying his ISP – Time Warner.  According to the legal order, he was assessed $6K in damages for copyright violations and $5,948 in attorney fees. The individual was discovered via his IP address at Time Warner.  We had previously reported that the UFC had obtained Greenfeedz user information. and this may be the result.
Payout Perspective:
It should be noted that the UFC did not prevail on the merits of its lawsuit against the Greenfeedz user.  It prevailed due to the individual's failure to respond to the lawsuit.  Even though the individual has a judgment against him for over $11K, it will be up to Zuffa to decide whether or not to go after him for the money.  Regardless, the new information that the UFC has obtained more records from another illegal web site may give pause for those that pirate PPVs.  Certainly, individuals do not want to be sued and be subject to potential fines.  Will this be a deterrent for pirates?  So far, it has not stopped individuals but if the UFC continues to go after end users it may deter a portion of the existing base of people accessing illegal streaming.  The issue with this strategy is would suing these people alienate the fan base.  Of course, the easy UFC response is that the people not paying for UFC content are not really fans.
The UFC announced new bonus criteria for fight nights which will supplant the previous structure of awarding 4 monetary bonuses for Fight of the Night, KO of the Night and Submission of the Night.
Gone are the bonuses for KO of the Night and Submission of the Night which are replaced by Performance of the Night which will go to the "athletes who put on the best and most exciting individual performances."  Two fighters will receive the Performance of the Night bonuses.
The bonuses will remain at $50,000 which has been the standard (with a few exceptions) since UFC 141.
Payout Perspective:
The new bonus structure seemingly gives more defined flexibility for the UFC to award performance bonuses although a fight does not end in KO or Submission. This may be the case where the UFC thinks the judges gave a victory to the wrong fighter and/or a fighter makes a great comeback in a fight only to fall short. Certainly, one would think that the UFC could still award a "Performance Bonus" for a KO or Submission but the award need not have to go to this.  Also, it allows the UFC to give out bonuses when there is no submission or KO (e.g., UFC 169 had no submissions).  Of course, as we saw from 169, the UFC can decide when to give out bonuses and how much. At 169, with no sub bonus, the UFC gave FOTN fighters Jamie Varner and Abe Trujillo $75K each (thus splitting up the Sub bonus) and gave Trujillo his $50K for KO of the night.
The new structure also implies that fighters will not be able to double up on bonuses (i.e., no KO and Fight of the Night bonus for just one fighter).  Another issue with the new structure is that the UFC may not have to award the Performance bonus if no one performs up to the UFC's expectations. We shall see if this impacts the fights this Saturday with the upcoming Fight Night.
MMA Junkie reports that TUF Nations contestant Tyler Manawaroa will not be offered a UFC contract regardless of his place or performance on the show according to a statement by the UFC released on Monday.
Manawaroa, a part of Team Australia, posted a racially insensitive photo on his Instagram account.  The revelation came after it was pointed out by a fellow TUF contestant from Team Canada.  Curiously, the photo on Instagram includes comments which attempt to alert the UFC and Dana White via "@ufc" and "@danawhite."  It should be noted that it appears White's Instagram is @danawhiteufc.  Regardless, the UFC indicated that it was not aware of the photo prior to allowing Manawaroa onto the show as a contestant.
The UFC statement via Junkie:
The UFC organization had hired an investigation company in Australia to conduct thorough background investigations on potential contestants for 'The Ultimate Fighter Nations' television series. Unfortunately, the background checks did not uncover all of the social media history by contestant Tyler Manawaroa. The UFC is committed to having an environment that is free from discrimination. Consequently, UFC has notified Manawaroa that regardless of how far he advances in the completed television series, the organization will not be offering him a contract to compete in the UFC.
Payout Perspective:
An appropriate action by the UFC, but the explanation appears to pass off blame for the oversight.  Certainly, it appears from the comment section of the IG picture that posters attempted to contact UFC or Dana White.  Yet, the UFC claims that it had no idea about the posts on social media.  For any company, background checks are essential and unless the IG pic was deleted after initial posting, it should have been discovered by the investigation company and/or the UFC.  For the UFC's image, Manawaroa cannot compete in the UFC.  The problem is what happens if he appears to be the best fighter on the show and then is not permitted to compete in the Finale?  Should they have just kicked him off the show once this information was discovered?
This incident as well as the Jessica Eye situation reflects the need for a review of social media standards and practices.
Bellator announced a partnership with Attack Poker, an online gaming company, which will commence with the start of its 10th season which will air on Spike TV on February 28th.   Attack Poker will be the official online gaming partner of Bellator.
Via Bellator press release:
The alliance will make Attack Poker the official online gaming partner of Bellator, and will be featured throughout Bellator's live event broadcast, as well as online and through digital campaigns.
Bellator will now feature "The Attack Of The Night" in every broadcast, which will highlight the most explosive and exciting finish or technique featured throughout the broadcast. Attack Poker will also be featured inside the Bellator cage, with logo placement on cross bar and bumper pads.
Attack Poker is a trademark of EMIL Interactive Games, LLC, a software development company that specializes in the design and marketing of casino games, online social games and mobile platforms in the United States and abroad.  Attack Poker is the first innovative multiplayer online poker game utilizing the latest cost effective, cross-platform gaming technology capable of real-time 2-D and 3-D game play. Attack Poker brings online play to life through interaction and special events with "Team Attack Poker," comprised of some of poker's top players including Eli Elezra, Luke Schwartz and Billy Baxter.
Payout Perspective:
The partnership is similar to the UFC-Ultimate Gaming/UCasino.com partnership.  Certainly, Bellator/Attack Poker are looking at the same demographics here and the sponsorship looks to capitalize on the young males Bellator programming attracts.
The UFC has announced that Demetrious Johnson, Rashad Evans and others will take part in a series of events and appearances which will celebrate Black History Month.
Demetrious Johnson, Uriah Hall, Rashad Evans, Phil Davis, Anthony Johnson and Tyron Woodley are all slated to participate in events the last week of February as follows:
•    Monday, Feb. 24 – New York City with Demetrious Johnson & Uriah Hall
•    Tuesday, Feb. 25 – Philadelphia with Demetrious Johnson & Uriah Hall
•    Wednesday, Feb. 26 – Washington, D.C. with Rashad Evans & Anthony Johnson
•    Thursday, Feb. 27 – Atlanta with Rashad Evans & Anthony Johnson
•    Friday, Feb. 28 – Los Angeles with Phil Davis & Tyron Woodley
At this point, no other information has been provided although the UFC has setup a dedicated page on its web site for additional details.
Payout Perspective:
Like many organizations, the UFC will be honoring black history month.  It's interesting that this announcement occurs almost halfway through the month and all the events will occur the last week of it which might infer that either the UFC just solidified commitments from its fighters and/or put together at the last minute.  Cynicism aside, African Americans are not a huge part of the UFC fan base at this time and these events would help with its outreach. A survey last spring indicated that African Americans were less avid followers of MMA than the two other popular combat sports (boxing, pro wrestling). Notably, Jon Jones is not currently slated to make any appearances.  This may be due to training or other obligations.  However, recently signed Anthony Johnson will be making two.